Keith Olbermann Mocks Young Conservative, Excuses Awkward Liberal, At Cornell Speech Q&A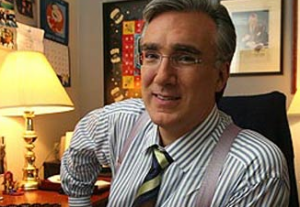 Former Countdown host Keith Olbermann followed his speech at Tuesday's "An Evening with Keith Olbermann" with a 42-minute Q&A session at Cornelll University's Bailey Hall. That's a long time to watch, so we've run down some highlights, including a predictable duality in the way he treated one eloquent conservative questioner, versus a nervously verbose member of his liberal choir. That miniature study of human nature, and the rest of the highlights, coming up on Tick-off™.

As we mentioned earlier, Olbermann did eventually make peace with another conservative member of his audience, but early in the session, he wasn't so kind. A young man politely asked Olbermann why he favors the "conservatives as stupid" drumbeat to a more substantive dialog, to which Olbermann essentially replied, "You're dumb!"
Too mean, Keith, too mean! I could see it if the guy was heckling, or being a douche, but he couldn't have been more respectful.
While Olbermann's treatment of the young man was uncharitable, at best, it's fair to note that a similar question from a liberal probably would not have gotten a better response from, say, Ann Coulter. What's interesting, though, is the contrast between Olbermann's treatment of the young man, and that of a liberal questioner who filibustered for several minutes on the subject of "fracking" (without making a single Battlestar Galactica reference, I might add), before switching gears to a somewhat hysterical critique of the media's attention to Libya over the situation in Japan:
Really? I could understand it if the media were killing Japan stories to cover Rebecca Black's next video (Lunchtime?), but we shouldn't be focusing on Libya?
Now, I'm not saying Olbermann should have destroyed the "fracking" lady, but rather, that he should have found a way to be kinder, gentler, and wittier with the conservative fellow, and maybe even have answered his question. I mean, they're not all stupid.
Later in the show, though (after another conservative audience member loosened the jar), Olbermann got a shot at redemption, as another young  conservative asked a similar question to close out the night. He handled this one with considerable more grace, and hopefully, the warm result will encourage him to do so  in the future:
Elsewhere in the Q&A session, Olbermann reveals how, at an MSNBC that was a "right-wing operation" in the early aughts, he smoked out the right-wing tools at NBC News, but he doesn't name names. Later, he reveals that one advantage of Current TV over, say, NBC News is the fact that Current is less likely to have the conflicts of interest that a larger network has. He also introduces a novel electoral belwether at about 31 minutes in, relating how the things baseball players tell him can be predictive of electoral outcomes. Apparently, the Wisconsin-led anti-union movement has gotten their attention.
He also commits an amusing gaffe at about the ten-minute mark, referring to a young woman as "sir."
The attendees who paid to see "An Evening with Keith Olbermann" certainly got their money's worth. In addition to the hourlong speech, Olbermann's Q&A clocked in at just over 42 minutes, which is Grateful Dead-long for a political media lecture. You can see the entire session, plus the speech, at Olbermann's FOK News website.
Have a tip we should know? [email protected]