Keith Olbermann On This Week: Significant Likability Gap Between Obama And Romney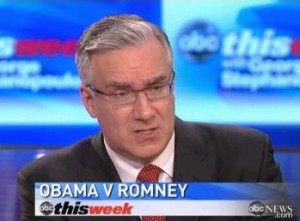 Today's panel on This Week was just a normal, everyday discussion about the general election campaign between President Obama and Mitt Romney. With one notable exception: Keith Olbermann was one of the panelists. In the midst of talk about this race and its connections to the 2004 Bush-Kerry race, Olbermann brought up the likability metric and how President Obama has that advantage over his Republican rival going into the general election.
RELATED: Keith Olbermann Rains On Post-Election GOP Baseball-Bat-And-Tears Parade
George Stephanopoulos had the panel weigh in on how this election has essentially gone to the dogs. Donna Brazile talked seriously about what each campaign will need to do to reach out to independents, before sharing a slightly disturbing anecdote about how her mother once told her, "don't focus on the species, focus on the recipe." George Will reacted to polls showing Obama's narrow lead over Romney by reminding everyone that the president had much more momentum in 2008, and all he garnered was 53 percent of the vote. Will noted that the Democrats, "the oldest party in the world," have only had three candidates that have ever garnered a majority, not just a plurality, of the vote.
Matthew Dowd, who worked as a chief strategist for George W. Bush during his 2004 re-election campaign, noted many similarities between that re-election contest and this one. He said that Obama's approval rating now is right around where Bush's was at this time eight years ago. And just like Bush did, Dowd pointed out that Obama too was facing a wealthy Massachusetts politician whose biggest perceived problem is flip-flopping on key issues and, as Dowd put it, "authenticity."
Olbermann then brought up the issue of likability and asked Dowd exactly where Bush's numbers on that scale were during the 2004 race. He pointed to a recent poll finding that the gap between Obama and Romney in terms of likability is over 20 percent, with Obama in the lead. Dowd disputed the idea that this would be an important metric for Obama, because strategically speaking, people could still vote against someone they like if they believe they're incompetent or not doing a good job. Peggy Noonan agreed, saying the biggest issue in the race is going to be Obama's record, and not the petty nonsense that's overtaken much of the campaign.
RELATED: Romney Says Election Isn't About Dogs, It's About Jobs
Will ended up doing a little quick math and illustrating that if Obama keeps the Kerry coalition, loses New Hampshire, but also gains a few states, the electoral college will be split 269-269. And God forbid this headache of a race drags on like it did in 2000…
Watch the video below, courtesy of ABC:
Have a tip we should know? tips@mediaite.com
Josh Feldman - Senior Editor