Keith Olbermann Praises Orioles Exec's 'Elegant' Defense of Baltimore Protesters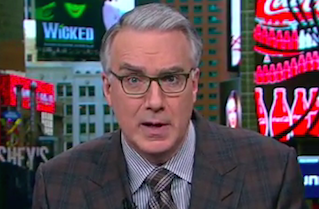 In his role as anchor on ESPN2, Keith Olbermann rarely misses a chance to weigh in on politics as it relates to sports. And the effect of Baltimore's protests-turned-riots on the Orioles was no exception.
Specifically, Olbermann zeroed in on the series of tweets that Orioles COO John Angelos directed at Baltimore sports radio host Brett Hollander in response to his criticism of the protests.
While Hollander argued that the Constitution should allow citizens of Baltimore to attend Orioles games without the disruption of protests, Angelos attempted to put the focus back on "poor Americans in Baltimore and everywhere who don't have jobs and are losing economic civil and legal rights" whose plight he argued makes "inconvenience at a ballgame irrelevant in light of the needless suffering government is inflicting upon ordinary Americans."
"Without protesters inconveniencing non-protesters, indeed with protest, you wouldn't have a Declaration of Independence, a Constitution or a First Amendment to misquote that way," Olbermann told Hollander on his show Tuesday night, before turning to the "far more elegant and serious" response from Angelos.
"In a time of trouble, when owners tend to dissolve behind spokesman and generalities," Olbermann commended Angelos for his comprehensive reply. The host noted that the tweets were written on Saturday before the violence escalated, but said, "That a sports team owner should make that point, that he should act as if his city and the citizens that city represents, all its citizens, were more than just a name to stick on the team's road uniforms, that is a rare thing indeed."
On Wednesday, the Baltimore Orioles will take the unprecedented step of hosting the Chicago White Sox for a home game with no fans in attendance.
"This is not to applaud, condone or minimize violence against authority or by it. But if you are somehow ticked off that the Orioles aren't playing, while they aren't, maybe go reread with John Angelos wrote, "Olbermann concluded. "And at least rid yourself of the idea that the protesters are just doing this because they feel like it."
Watch video below, via ESPN2:
[Photo via screengrab]
— —
>> Follow Matt Wilstein (@TheMattWilstein) on Twitter
Have a tip we should know? [email protected]