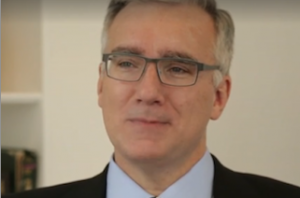 Despite the fact the Keith Olbermann claims his new show on ESPN will steer clear of politics, he is still pursuing such high-profile guests as former President George W. Bush and current President Barack Obama. A new profile from The Hollywood Reporter's Marisa Guthrie, reveals more details about exactly how politics will fit into Olbermann's latest projects.
Contrary to initial reports, Olbermann has said that there is no "content clause" in his ESPN contract. Rather, he said he has chosen to focus exclusively on sports. As he said during recent conference call with reporters, "If I wanted to be doing politics, I would still be doing politics."
But as Guthrie confirms in her piece, Olbermann may still want to be doing some politics:
"There is nothing in his ESPN contract that precludes him from talking about politics. His producers already have reached out to George W. Bush, a former owner of the Texas Rangers. They have yet to receive a yes — or a no. (The radio silence might be attributed to the former president's recent heart surgery.) And Olbermann also would like to have President Barack Obama as a guest. But his forays into politics only will be as it relates to sports."
Another juicy bit of information from Guthrie's profile includes the name of ESPN's first choice as host for its new late night franchise: Seth Meyers. The network had reportedly courted Meyers, who hosted the ESPY Awards in 2010 and 2011, before moving on to Olbermann after NBC tapped Meyers to succeed Jimmy Fallon on Late Night.
(screengrab via THR)
—
>> Follow Matt Wilstein (@TheMattWilstein) on Twitter
Have a tip we should know? tips@mediaite.com