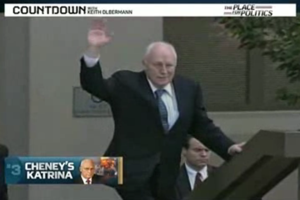 Keith Olbermann is not buying the argument that the Gulf oil spill is "Obama's Katrina." Explaining that lax safety regulations on the part of oil giant Halliburton could have directly caused the Gulf oil spill, he attributed the disaster to Halliburton's former CEO, Dick Cheney.
The analogy to Katrina is a bit of a long shot, but that's more the fault of those that began circulating the Katrina analogy before Olbermann did. And doesn't former Vice President Dick Cheney already have a Katrina of his own? Not to mention that, initially, hearing "Halliburton" make its triumphant return to the political lexicon feels somewhat anachronistic– like "swiftboat" or "hanging chads." Olbermann explains Halliburton was, however, directly involved with the technology at the oil well:
"Halliburton… did the cementing to seal the deep-water well, a process families of the dead now claim led to the fatal blowout. Halliburton confirming it finished cementing only twenty hours before the damn thing blew. Just like Halliburton had just finished cementing this Australian well when it blew on August 21st of last year…"
Even if the faulty cementing proves to be the pivotal error in the disaster, that would only prove that Halliburton caused it– a Halliburton a decade removed from Cheney's tenure as chairman and CEO. The link to Cheney, Olbermann argues, is a longtime standard of subpar training for its oil well operators going back to Cheney. He also notes that, in discussions the Vice President had with oil executives, he supported making acoustic switches optional, a backup to blowout preventers to shut down wells. If it is found beyond a doubt that it was the cementing of the oil well that caused the problem, an acoustic switch could have gone very far in containing the disaster, Olbermann argues. He continues the discussion with Kieran Suckling of the Center for Biological Diversity.
Video below:

Have a tip we should know? tips@mediaite.com