Keith Olbermann Reports Rep. Allen West 'Boasts' About Being Member Of White Supremacist Biker Gang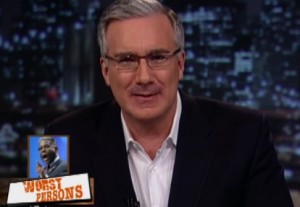 On Monday night's Countdown, host Keith Olbermann gave Rep. Allen West (R-FL) top honors in his "Worst Persons" segment, ostensibly for "admitting" (and even "bragging") that he was a member of a white supremacist motorcycle gang, after denying any connection to such a gang for the past year or so.
While West's courtship of motorcycle clubs like The Outlaws is still worthy of scrutiny, the fact is that he made no such admission.
In the weeks before the 2010 mid-term election, NBC News reported that West defended The Outlaws motorcycle club in an email to a supporter, and that he was photographed at an event speaking to other clubs affiliated with The Outlaws.
At the time, West's campaign manager, Josh Grodin, issued a statement saying the report as a "political hatchet job by the liberal mainstream media…Let me be perfectly clear, Allen West has absolutely no ties to the outlaw bikers club – an organization with a history of criminal activity, as well as racism against African Americans."
On his program last night, Keith Olbermann mangled even the basic background of the story, saying that last year, NBC reported that "goddamned liar" West "had once been a member of an otherwise all-white motorcycle gang."
Perhaps Olbermann can be forgiven this slip, though, since it was West himself who appears to have originated that oversell when he told an interviewer, ""This most recent desperate insidious attack where Lisa Myers [of NBC News] did her piece where they are trying to associate me as a member of the Outlaw motorcycle club…" (emphasis mine).
But then, Olbermann makes the bewildering claim that "now, when it's useful for a compulsive liar like Allen West to admit that he was in that gang because he can use the 'yes' answer to play the race card."
Notwithstanding the mysterious premise (how would boasting about membership in the Outlaws help West?), the clip that Olbermann plays, from the conservative Scott Henen Show, is obviously not an "admission" of past membership in the Outlaws, but rather, West citing an example of what he believes to be the false media attacks that he and Herman Cain must endure. Here's what West said in the clip that Olbermann says consists of a "boast" that West was the "only member of a white supremacist biker gang":
Scott Hennen: Is it an attack on a black conservative because he's a black conservative?

Congressman West: "Oh come on, I mean you know I was the only black member of a white supremacist motorcycle gang, so liberals and there are certain others I would say even within our party that are not comfortable with strong black conservative voices, and I would say there are people that feel very threatened by that because we do stand on principle. We are someone or entities that are out of the mainstream, if you want to call it that, so liberals are definitely going to come at you. But I think you also have this inner fight within our primary candidates for that piece of the pie that they want to have."
Olbermann wasn't the only one to report West's comments this way, which could explain why he misinterpreted the clip, but it's hard to imagine something so obvious getting past everyone on his show.
Ironically, West's supporters now have to choose whether to spread West's lie that NBC accused him of being a member of the Outlaws, or call him out for it, or simply give Olbermann a pass. It's the rare win-win in partisan political poo-flinging.
Here's the clip of West's "Worsts" award, from Current TV:
Have a tip we should know? tips@mediaite.com