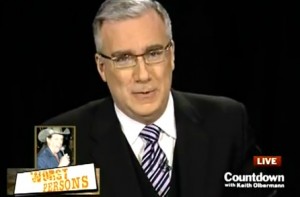 After a week off due to a bout with bronchitis, Countdown host Keith Olbermann returned to the air Monday night, to the center of the Current TV universe, and to the black backdrop that seems a fitting stand-in for the star's reportedly tumultuous relationship with his employer. According to a new report by Newsweek's Rebecca Dana, that relationship may be hanging by a thread, and with it, the future of Current's plan to become the left's answer to Fox News.
Signs of trouble began in December, when Olbermann abandoned his glitch-prone set for an austere black background, and escalated a dispute with management about his participation in the network's coverage of the Iowa caucuses. Now, in a lengthy feature, Newsweek's Rebecca Dana reports that Olbermann may be close to walking away, and scuttling former President-Elect Al Gore's plan to build a 24 hour cable news channel around him.
RELATED: Bill Press Hosts Current TV's Florida Primary Coverage On Countdown
The report doesn't add much flesh to the bones that have already been reported, and what flesh there is comes mostly from an unnamed source at the network, who confirms what most observers probably already concluded: that Gore and company are doing everything they can to keep their temperamental star happy. The source also paints a grim picture of Olbermann's future at Current, and consequently, of Current's future.
There's nothing wrong with this kind of sourcing, mind you, but in Keith Olbermann's case, it's worth noting that even a perfectly honest and reliable source might succumb to some level of wishful thinking. Let's face it, talented people can be difficult. Not all of them, mind you. Rachel Maddow has managed to step in and fill the franchise player role at MSNBC, while still being universally regarded as the Queen of Nice, and even that network's polarizing Ed Schultz saves his firebreathing for the big show.
But some talented people can be difficult, and the people around them can react in one of two ways. They can either decide the talent is worth the difficulty, and manage it, or they can become resentful. When you're the "complicated guy" in the cast of According To Jim, you probably won't be around long, but when a network builds an entire programming strategy around you, they're going to put up with a lot.
By all accounts, Keith Olbermann is more than worth it to the management of Current TV, but that doesn't mean there aren't some unhappy campers a bit farther down the food chain. The host may, indeed, be bored or unhappy, but the question these reports of his departure never really get around to answering is, where is he supposed to go? Set aside the burning of bridges, now that he has become so closely identified with progressive politics, where else would he even fit now?
The media types that I've spoken with, though, all see an unhappy end for Olbermann and Current, so it's possible that if he doesn't remain there, he goes the Bobby Fischer route, just takes his money and vanishes. He might have the tortured soul for that, but talent-wise, even he's got to know that he's not the Bobby Fischer of cable news. Maybe he could ratchet the tortured soul setting down a bit. He's at John Belushi, when he ought to be closer to Jim Belushi.
Unfortunately, all of this drama has eroded the fruits of that talent. His once-appealing wit has become increasingly bitter and petty, and has served to undercut the authority with which he was once able to speak. It's tough to segue from a fingerbang joke into an impassioned soliloquy about civil liberties. Also, the black background was kinda cool for about a minute, but he really ought to bring the set back.
That Newsweek report does shed some light on the business side of Current (the good news: the network is great at drawing advertiser-attractive younger viewers; the bad news: they're racing against time to renew carriage agreements with cable systems that expire over the next few years), and Current president David Bohrman revealed to Dana that the network is now trying to develop a morning show to compete with Morning Joe (hmmm, now who could they get to host that?).
All of this depends greatly on Keith Olbermann not just staying put, but getting his head back in the game.
Have a tip we should know? tips@mediaite.com