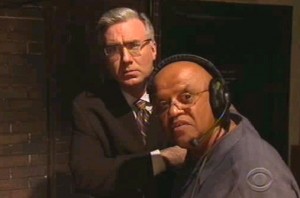 Ever since last Keith Olbermann's sudden departure from MSNBC a week ago last Friday, both television insiders and loyal fans wondered when we could expect to see him back on "the tube." Well we may have received our answer tonight on The Late Show with David Letterman in a funny gag that employed one of the most underused comedic devices: the element of surprise. Update below.
After Letterman spoke about the uprising in Egypt, he then threatened the audience "If anyone acts up, we've got a guy." Jump cut to the self-aware and comically angry Olbermann looking over the shoulder of Biff Henderson.
Self-mockery is a tricky wicket for any known media personality to try to pull off, and often times it ends up feeling a little like a pathetic publicity moment. Not so in this instance, as Olbermann showed that he was willing to have a laugh along with the audience watching at home, even if it was just mocking his "angry" image. Well played, sir.
Update: Some on Twitter are suggesting that this clip was video shot from a show in the past year, and that it was only recycled for comedic purposes (it worked!) We will assign a crack team of researchers to spend countless hours investigating when this video was shot!
Update 2: Yes it appears that this cameo was shot in 2008, then cleverly repurposed by Late Night producers last night.
The original post has been edited to reflect the unknown certainty of when this cameo bit was originally taped.
Watch the clip courtesy of CBS below:
Have a tip we should know? tips@mediaite.com