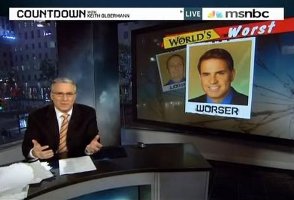 You may remember that last Friday, when Rick Sanchez was fired by CNN for making controversial remarks about Jon Stewart and Jewish people in general, Keith Olbermann gave Sanchez "Worser" status on "Worst Person in the World." Well, since then, Sanchez has talked to Stewart, hashed things out and issued an apology…but it wasn't enough for Olbermann, and tonight he made Sanchez "Worser" again.
Mostly, Olbermann ripped the wording of Sanchez' statement, saying his remarks weren't "inartful" (as Sanchez called them) but "anti-Semitic." He also wasn't a fan of Sanchez' line, "I sincerely extend this apology to anyone else whom I may have offended" – Olbermann would have preferred a simple, "I apologize to everyone I offended."
It's worth noting, however, that when Sanchez originally ripped Stewart and said:
"I'm telling you that everybody who runs CNN is a lot like Stewart, and a lot of people who run all the other networks are a lot like Stewart"
…that he may have been referring to Stewart's "suburban middle class New Jersey" upbringing more than his Jewish heritage. If this was the case, Sanchez' remarks were indeed not anti-Semitic, but…inartful. Then again, Sanchez followed up the "a lot like Stewart" line with a remark specifically about Jews, so even if he didn't intend to imply "Jews run the networks," it's hard to fault someone for hearing that. It's certainly what Olbermann heard, and video of Sanchez' latest "Worst Person" nod below.
Have a tip we should know? tips@mediaite.com