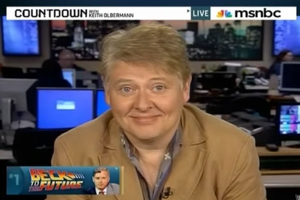 Keith Olbermann's best segments lately have been only tangentially related to politics: his chat with the cast of Mystery Science Theater 3000, his new weekly James Thurber readings, and now this: an interview with Kids in the Hall's Dave Foley, star of a 1994 sketch that resembles The Glenn Beck Program so much that, in light of its existence, it ceases to be funny.
The sketch, dated 1994, of a wild-eyed political commentator warning of the "cancer" of communism threatening to overtake the post-Cold War West while Americans were distracted started to make the YouTube rounds last summer, when a real wild-eyed political commentator began warning that the "cancer" of communism war threatening to overtake the post-Cold War West.
Olbermann acknowledges he only became aware of it recently through Twitter, and in a segment that could be considered a celebration of Glenn Beck's appearance on this year's Time 100 list, Olbermann welcomed Foley to discuss his opinion of Beck. Needless to say, he had very few nice things to say, and the resulting segment was full of comments that, even for a show that routinely names him the "worst person in the world," were scathingly personal.
The barbs at Beck escalated from the mildly immature ("I don't want to contribute to his happiness in any way") to the classlessly inappropriate ("we have to be very careful who we let into rehab")– it's a miracle Foley chose not to gloat about Beck's mother's suicide. Through all the nasty personal attacks, however, there is a very interesting observation: as Rush Limbaugh rose to prominence in the mid-1990s, a group of satirists saw the potential for a bolder, more vivid, more charismatic voice to take that message and make it accessible to a much broader audience.
Watch the segment below:

Have a tip we should know? tips@mediaite.com