Keith Olbermann Trashes MSNBC Over Rev. Sharpton Hire, Suggests Quid Pro Quo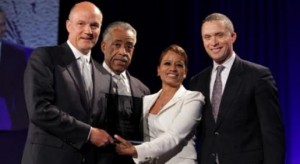 While introducing his segment with departed MSNBC host Cenk Uygur Thursday night, Countdown host Keith Olbermann trashed MSNBC's reported hiring of Rev. Al Sharpton to replace Uygur, and even suggested a quid pro quo between the network and Sharpton's National Action Network. Olbermann noted that MSNBC hired Rev. Sharpton to replace Cenk Uygur "three months after Sharpton's National Action Network gave an MSNBC executive a 'Keepers of the Dream' award.

Olbermann went on to quote criticism of the hiring by Richard Prince:
When rumors surfaced this week that Sharpton was under consideration for the MSNBC job, one NABJ member told colleagues without challenge, "This would still be just another non-journalist media 'celebrity' receiving a TV show based upon their name recognition, not their years of experience, training, ability and talent."
Prince also noted that the hiring of Sharpton would serve to quell criticism of the news media's lack of diversity.
From Current TV:
Prince's criticisms are valid, of course. The news media landscape is littered with hosts who have little or no background in journalism, and the fact that hosting slots for black newsmen are so scarce makes this doubly grating. There's also a fair case to be made in Sharpton's favor, at least from a business perspective. He certainly knows his way around a TV camera, and is a sharp debater who, as Prince notes, has managed to mellow his way back into the political mainstream.
Olbermann's amplification of this critique, however, seems opportunistic, aimed more at settling a score with his old employer than pointing out an injustice. When he was still at MSNBC, Olbermann vigorously defended the network's diversity, even lambasting Mediaite in a mini-Special Comment for daring to report on it. For him to exploit the issue now that he's on the outs with MSNBC borders on the offensive.
The suggestion that MSNBC President Phil Griffin's "Keepers of the Dream" award played a part in the decision to hire Sharpton is laughable enough that Olbermann fell short of connecting those dots with a bright line, but again, the idea seems to be that Sharpton is less than deserving, and that the award was given to Griffin to butter him up. As inducements go, that's some pretty weak sauce, and it flies in the face of Olbermann's previous defense of the network.
There will be some who will even point out that Olbermann's own Current contributors list is just this side of a Hoth chameleon, whiteness-wise, but that's not really the point. Diversity is a problem throughout the mainstream media, and it deserves attention. It also deserves to get that attention because it is a serious issue, and not just to score cheap points against your old boss.
We contacted NAN and MSNBC for this story. MSNBC declined to comment, and NAN has yet to respond.
Have a tip we should know? tips@mediaite.com