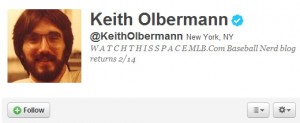 Since joining Twitter early last year, now-former Countdown host Keith Olbermann has become one of the platform's most loquacious users, tweeting more frequently than a meth-tweaked canary. All of that came to an abrupt end in the hour before his Friday announcement that he, and his show, were leaving MSNBC.
Saturday night, though, Olbermann-watchers saw the first sign of post-Countdown life from his Twitter feed: an update to his profile which read "WATCHTHISSPACE MLB.com Baseball Nerd blog returns 2/14."
At this point, very little should be read into this, but that won't stop people from trying. The New York Daily News speculates that maybe the update signifies a return to sports for the former Sportscenter co-anchor:
Since his sudden split with MSNBC, Keith Olbermann could be going back to his roots – at least on Twitter.

"W A T C H T H I S S P A C E MLB.Com Baseball Nerd blog returns 2/14," he wrote on his biography line– the only update he's written on his usually prolific account since Friday evening.
They go on to note that a return to ESPN is unlikely, for a variety of reasons that Sportsgrid details here.
The problem here is that promoting the Baseball Nerd blog is nothing new to Olbermann's Twitter feed, and so "Watch this space" isn't necessarily related to it. If Olbermann does remain silent until February 14, though, you can bet that will be the most widely-read edition to date.
In any case, those watching Olbermann's feed for dirty laundry, or laundry of any kind, regarding his departure from MSNBC are likely in for a big disappointment. As much as it's probably killing the normally-outspoken Olbermann, news accounts from respected journalists generally concur that the terms of his exit include some kind of gag order.
Much more likely is the prospect that Olbermann will share, in fairly short order, some level of detail about his future plans. Ironically, his departure has elevated his Twitter feed to near-Sarah Palin status, anticipation-wise. The parallel has been noted by some conservatives on Twitter, who wondered if Olbermann could continue to slam Palin for resigning the Alaska Governorship, which caused Olbermann to dub Palin the "former Half-Governor." (This says more about their attitudes about the gravity of elected office than anything else.)
In that vein, it would be a satirical masterstroke if Olbermann emerged from Twitter exile to tweet about "Death Panels," as they relate to cuts to transplant funding in Arizona.
Either way, Olbermann has to be aware that his status as a Palin-level Twitter celebrity has a short shelf-life, and if he wants to use the platform to promote his next move, sooner is better than later.
Update: On Sunday, perhaps in response to the Daily News' speculation, the message on Olbermann's Twitter profile was tweaked to more clearly separate the messages. It now reads "W A T C H__________T H I S__________S P A C E (Also: MLB.Com Baseball Nerd blog returns 2/14)"
Have a tip we should know? tips@mediaite.com