Keith Olbermann Calls For Boycott Of 'Unacceptable' Video Game In Which Players Shoot Up Fox News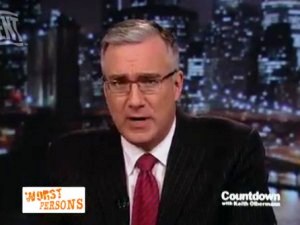 Countdown host Keith Olbermann weighed in on the controversy surrounding the Tea Party Zombies video game during his "Worst Persons" segment, specifically denouncing the game's anti-Fox News content, and even urged a boycott of the game's distributor, Starving Eyes Advergaming. He did take a good-natured swipe at his cable news nemeses, but even Olbermann's detractors ought to credit him for such a full-throated denunciation of the game, even if it is so far over the line that the line needs extra postage to send the game a letter.

The game, as Olbermann describes, offers players a chance to roam a post-apocalyptic Fox News studio ("not the post-apocalyptic studio they're in now") blasting real-life conservative figures like Sarah Palin, Mike Huckabee, and Sean Hannity. Olbermann's detractors will likely point out that the fetid fever dream only rated a third place finish in the "Worst Persons" ranking (a fair point), and that denouncing something this heinous isn't exactly going out on a limb, but Olbermann deserves credit for two reasons.
First of all, silence costs nothing. He didn't have to mention it at all, and the fact that he did shows that he's got a healthier perspective on his relationship with Fox than you might have expected.
Second, Olbermann resists (or never feels) the urge to deflect his outrage at this game with examples of the same against liberals. While it bears noting, as Jon Bershad did, that right-wing overreaching condemnations of all liberals based on this game are ridiculous and unfair, Olbermann recognizes that the greater offense is the game itself, and rightly denounces it.
Unlike Keith Olbermann, I never bought into the idea that political speech should be attenuated to the reasoning capabilities of lunatics, he is absolutely right on this. Putting gamers in the "shooter's seat," and their political foes in the crosshairs, isn't a metaphor, it's at best a sick form of catharsis. I also don't buy the premise that videogames translate into action, but that doesn't make this okay.
Here's the clip, from Current TV:
Have a tip we should know? [email protected]