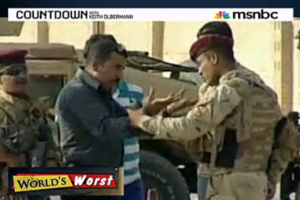 Some jokes are lost in translation. While it seems many in Iraq are laughing at celebrities that think they will be sent to jail for an attempted suicide bombing in the new hidden camera show Put Him In Bucca, Keith Olbermann muttered something about wives and families and extreme emotional distress on his "World's Worsts" segment last night. What a wet blanket!
In fact, Olbermann went so far as to make them– not Bill O'Reilly, not Glenn Beck, but the creators of Put Him in Bucca— the Worst Persons in the World of the day. And, no, Put Him in Bucca does not air on Fox News– shockingly, none of last night's "Worsts" were Fox News regulars, or even American media personalities– but is an Iraqi TV show modeled after Punk'd and Candid Camera where Iraqi celebrities are told by authorities that bombs have been found in their cars and they are either going to be sent to the American prison Bucca or be summarily executed. Olbermann objects on moral grounds (really? telling celebrities they will be executed and then laughing about it?) and makes the very valid point that the fact that these shows were shot as Ramadan "family time" specials is extremely disconcerting.
On the other hand, Ramadan point aside, the program seems to be, from the little that has made its way to America, hilarious given context. The fact that these Iraqi celebrities are anonymous to Americans humanizes them to a degree that makes the program unpalatable, but replace "anonymous poor Iraqi family man" with "Spencer Pratt" and you begin to see the appeal.
Evaluate the clip yourself and hear Olbermann's commentary via MSNBC last night below:

Have a tip we should know? [email protected]