Keith Olbermann's Return: Same Skilled Surgeon; Smaller, Inferior Operating Room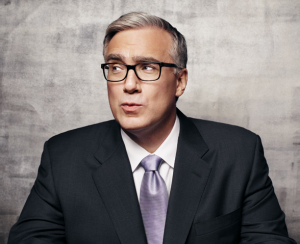 The Countdown that debuted on Current TV last night was in many respects exactly as fans of Keith Olbermann's MSNBC show remember–from the familiar theme music, segments, contributors and style. Reviewers have noted that Olbermann's lost none of his outrage in the move into the more remote reaches of the cable landscape. As has been noted, Olbermann assembled a team from on-camera guests to behind-the-scenes bookers who were with him on MSNBC. So what's different about the new show? Everything–at least in terms of television. Countdown put Olbermann at the desk of a shiny new set, but it was in a sense a sparkling modern surgical suite built in a warehouse without a modern hospital surrounding it. And it showed.
For the team that brought Olbermann back to prime time last night–many of them some of the most experienced people in cable news–may have felt a bit like brilliant surgeons forced to do elaborate surgery in a glistening new operating room, but suddenly cut off from their modern–and elaborately equipped hospital. Get me a whatchamajigger consult and have a team from otolaryngodoscopy get down here just in case this guy's helioflatterus goes into T-6. Oh, and hit the lobby Starbucks. I need a triple espresso.
Yeah. We don't have those anymore. We're pretty much on our own. In a warehouse. On the West Side.
Whereas the MSNBC version of Countdown was filled with the most modern graphics, live remotes from around the world, and plenty of entertaining effects, the new Countdown was by necessity more streamlined. Or, as some suggested with snark on Twitter during the debut, the show had a dated, nearly cable access feel to it at times. Sound elements were sometimes inaudible, and at other points, the audio levels between Olbermann and his remote guests were annoyingly uneven.
These complaints, anybody who works in TV will tell you, are the very reasons a network newscast or cable news show is an elaborate piece of television produced nightly by a team that can number into the hundreds–or more, depending on how far off into the world the show reaches, and how many stories the show covers. When tsunamis wash over nuclear power plants, a cable news show will call in the resources of thousands. And that's the weakness that may soon be displayed by Countdown on Current.
Keith Olbermann, with his intellect, loyal contributors and die-hard fans, delivers most of the show he did at MSNBC simply by sitting at a television camera and speaking–alone, or with a familiar friend, as he did with Michael Moore. And that part arrived undamaged in the move from NBC. The show, with its Special Comment and Worst Persons, felt so familiar you had to wonder why they didn't just go all the way and put Olbermann in front of a projected image of the flags outside 30 Rock, instead of the generic skyline shot.
Surely, the loss of three-dimensional graphics, laser-sharp production and crisp audio probably went unnoticed by many of those who have missed hearing Olbermann's voice and his take on current events. But when big news breaks–and it will–the show may suddenly seem like that shiny surgical suite in a warehouse that it is. There won't be a fast-deploy unit of NBC News journalists on the first flight out, backed by a Queens-based team of specialists devoted solely to moving technical crews and journalists around the world at a moment's notice–and backing them up with the satellite support and logistics expertise to get them on the air. It all happens off camera, as smoothly as the specialists, technicians and labs support surgeons in our best hospitals.
Surely, Current has plans in place for the necessity of covering big news, whether it's politics, terror, or natural disaster. And yes, the new Countdown clearly passed its first test: it proved that Keith Olbermann doesn't need NBC to do his nightly show. He's back, and his voice is once again a part of the national debate. And that's probably a good thing no matter what your politics. But one day soon, he'll want to talk about something, he'll want to show it to us as it's happening, and he'll want to call on experts at a moment's notice to bring perspective. And he may end up feeling like that world-class surgeon who suddenly realizes he's not in that amazing modern hospital anymore.
Have a tip we should know? tips@mediaite.com