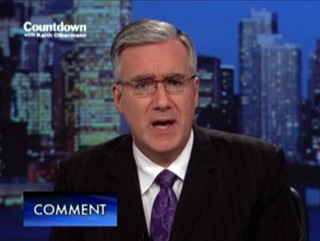 It appears that the situation between Keith Olbermann and Current TV that led to the "Chief News Officer" there being excluded from primetime Iowa caucus coverage has taken a turn for the worse. Olbermann's lead attorney spoke to The Hollywood Reporter today confirming that lawyers are discussing the matter, while the host himself tells THR: "I was not given a legitimate opportunity to host under acceptable conditions."
RELATED: Keith Olbermann and Current TV Battle Over Iowa Caucus Coverage
The strife appears to have begun sometime earlier in the week, with the New York Times reporting that Olbermann would not be covering Iowa with the assembled team for the night– an update that was, apparently, news to Olbermann. He later tweeted that he would not host Countdown last night and, as our Tommy Christopher reported, Current TV explained that "Current asked Keith to be the sole anchor and exec producer of our primary and caucus coverage beginning tonight. Unfortunately, he declined to anchor or participate," which seemed incongruous with Olbermann's tweets and previous statements.
Now Olbermann tells The Hollywood Reporter that he was not given a "legitimate" opportunity to host, which is why he declined. His attorney added:
Patricia Glaser, the Hollywood litigator who represented Olbermann during his exit from MSNBC and his subsequent hiring by Current, tells THR that conversations between the Olbermann camp and Current have begun over his role with the network.

"Keith's lawyers and Current's lawyers are communicating," Glaser says. […]

"I was not given a legitimate opportunity to host under acceptable conditions," Olbermann said in a statement to THR on Wednesday. "They know it and we know it. Telling half the story is wrong."
Olbermann also took another shot at Current for what he apparently perceives as too low-budget an enterprise for his program:
On Monday, Olbermann sent THR an e-mail defending the editorial integrity of Countdown while sardonically referencing the technical glitches that have plagued his show. "The team I'm fortunate enough to be a part of has produced — in my opinion and that of the veterans of the old show — the best editions of Countdown we've ever had," Olbermann wrote. "The studio lights might go off, but the editorial illumination is better than ever."
It is as yet unclear how this ends, but if it becomes a lawyer situation, it may lead to another difficult situation between Olbermann and his bosses. THR reports that "Olbermann also has expressed his displeasure with the level of influence he has been given over the hiring of other Current hosts," but that they were unable to receive legal specifics on the case.
Update: Tommy Christopher spoke with a source close to the network earlier this evening, prior to the Hollywood Reporter report, and here's what he says:
According to a source close to the network, Keith Olbermann was kept appraised of the Iowa Caucus plans at every turn, and acknowledged as much, in at least four or five emails dating back to mid-November. In those emails, Current executives tried to secure Olbermann's participation in the program, as they have previously stated, but he refused. While Olbermann now disputes the acceptability of the conditions under which such a program would be produced, he hasn't explained why he told his staff and his viewers that he was unaware there would be no Countdown on Tuesday night. The emails that this source saw contradict that notion.

According to the same source, the network is eager to have Keith Olbermann anchor their New Hampshire primary coverage. However, this was all prior to the THR report that Olbermann's attorney is now involved.

Keith Olbermann is Current TV's franchise player, so it's hard to imagine they want anything other than a speedy, friendly resolution to this matter. Based on his actions, it looks like Olbermann might not. It's worth noting that the URL to that Hollywood Reporter item (URLs often contain earlier versions of the eventual headline) reads "Keith Olbermann Quits Current TV Lawyers," which could indicate that a source on the Hollywood Reporter story walked something back before publication. – Tommy Christopher
Have a tip we should know? tips@mediaite.com