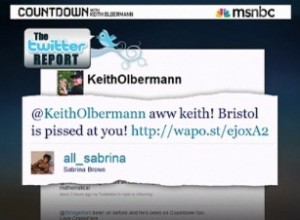 On Friday night's Countdown, host Keith Olbermann's "Tweet of the Day" concerned his simmering feud with "Worst Person in the World" recipient Bristol Palin. Linking to Palin's Facebook rebuke of Olbermann, Sabrina Brown's tweet read "aww keith! Bristol is pissed at you!"
Olbermann replied to Brown and Palin that, as a once-longtime employee of ESPN, "Bristol is pissed at you is my default setting," a reference to ESPN's hometown of Bristol, CT. Whether Olbermann knew it or not, his old job and Bristol Palin share more than a coincidental connection.

Here's Friday night's Twitter Report, from MSNBC:
What Olbermann failed to point out was that his former employer quite literally made Bristol Palin who she is today. From a 2009 Esquire profile of Sarah Palin:
I worked at the Bristol Inn, and Todd grew up in Bristol Bay. But also, Bristol, Connecticut, is the home of ESPN. And when I was in high school, my desire was to be a sportscaster. ESPN was just kicking off, just getting off the ground, and I thought that's what I was going to do in life, is be one of the first woman sportscasters. Until I learned that you'd have to move to Bristol, Connecticut. It was far away. So instead, I had a daughter and named her Bristol.
That's right, folks, Keith Olbermann and Sarah Palin once shared the same career trajectory. Longtime Palin-watchers might remember this clip that surfaced, early in Sarah Palin's Vice-Presidential run, of a fresh-faced Sarah Heath delivering rat-a-tat sports patter for KTUU-TV:
KTUU-TV, an NBC affiliate, is also the source of Olbermann's favorite bit of Palin video, her infamous 2008 "Silence of the Turkeys" interview.
As if that's all not weird enough, this isn't even the first time Olbermann has landed in hot water for trashing Bristol. From a 1997 Newsweek article:
Earlier (in 1997, ESPN) management suspended (Olbermann) for two weeks after an unauthorized appearance on Comedy Central; it didn't help that he referred to Bristol as a ""Godforsaken" place.
Some might take all of this as a sign of destiny, but I think it shows that even two people as diametrically opposed as Sarah Palin and Keith Olbermann still have significant common ground. If these two can one day sit and shoot the breeze about sports, maybe there's hope for us all. Or maybe there's some alternate universe where Mr. Spock has a beard, Palin is hosting Countdown, and Keith Olbermann rules the world from his Facebook account, ever-protective of his daughter, Wasilla.
Have a tip we should know? tips@mediaite.com