Kelly Ayotte Dishonestly Evades Another Town Hall Question About Background Check Vote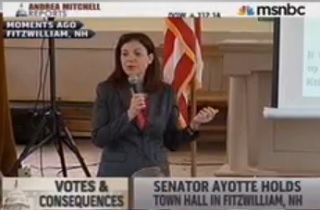 After being confronted at a town hall meeting by the daughter of slain Sandy Hook Elementary School Principal Dawn Hochsprung, Senator Kelly Ayotte (R-NH, NRA rating=A) faced another tough question about her "no"vote on the Toomey/Manchin background check bill. At another town hall meeting on Thursday, Sen. Ayotte was once again asked to explain her vote against background checks, and responded with the fiction that President Obama angrily called out after that vote, that it would somehow lead to a national registry that's already illegal, and which Toomey/Manchin would have made even more illegal.
"I really don't understand," a town hall attendee named John asked, "it doesn't make sense to me. What is wrong with universal background checks?"
Ayotte responded that "In terms of a universal background check, as it's been framed, I have a lot of concerns about that leading to a registry that will create a privacy situation for lawful firearms owners. However, I do believe that our current system should be fixed."
MSNBC's Andrea Mitchell noted that there were also many attendees who were supportive of Ayotte's vote, and that "this was hardly a hostile audience."
Of course, as President Obama noted minutes after Ayotte's "no" vote, the measure she helped defeat specifically made it a felony, punishable with a 15-year federal prison sentence, to use any background check information in the creation of such a registry, which is already illegal.
Ayotte is one of many senators who have seen their vote against background checks send their political fortunes into freefall. When she was confronted, by Erica Lafferty, at a Wednesday town hall, Ayotte gave a different explanation. Ayotte told the daughter of heroically slain Principal Dawn Hochsprung that background checks were not "the issue" in the Sandy Hook shooting, wouldn't have "solved it," and changed the subject to mental health. She also patted herself on the back for allowing the background check bill to even be debated.
It's interesting that Ayotte elected not to lie right to Erica Lafferty's face, probably knowing that she'd get that "national registry" garbage thrown right back in her face, but her response to Lafferty was revealing. It demonstrates the conservative tendency to only care about things that directly affect themselves, the "Portman Effect," a tendency that Ayotte tried to project onto Erica Lafferty. It actually is possible to care about gun reforms that could save lives in situations that don't precisely match the circumstances of a personal tragedy, or without even having experienced a personal tragedy. Hu-mans call that "empathy," but Republicans ought ti start thinking of it as just good politics.
Have a tip we should know? tips@mediaite.com