Kelly Defends Stop and Frisk: 'Ironic' That Country's Most Diverse P.D. Accused of Racial Profiling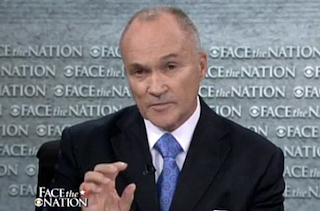 Appearing on CBS' Face the Nation Sunday morning, NYPD Police Commissioner Ray Kelly told host Bob Schieffer that a federal judge's ruling against Stop and Frisk last week was an unfair indictment of NYPD officers given the diversity of the force, and would make minority communities less safe.
"The judge has indicted an entire police department, almost 36,000 officers, for racial profiling, based on what we believe is very flimsy evidence," Kelly said. "It's also ironic, here, that the New York City Police Department is the most diverse police department in the United States. We have police officers born in eighty-eight countries. Our police officer rank is majority minority…We look like the city that we police."
"The losers in this, if this case is allowed to stand, are people who live in minority communities," Kelly argued. "97% of the shooting victims in New York City last year were people of color, black or Latino. In the Bloomberg administration years, if you compare those eleven years to the previous years, there have been 7,363 fewer murders. If history is any guide, clearly those lives saved are largely the lives of people of color."
Schieffer asked if Kelly planned to implement the judge's call for certain officers to wear body cameras to gleam evidence about how Stop and Frisk is used.
"The body camera issue opens up more questions than it answers," Kelly replied. "When do you have the cameras on? When you do have them off? Do you have it on during domestic disputes? Do you have it on when somebody comes to give you confidential information?…The only place that this has been implemented are cities that are much, much smaller than the NYPD."
Watch the full clip below, via CBS News:
————
>> Follow Evan McMurry (@evanmcmurry) on Twitter
Image via CBS News
Have a tip we should know? [email protected]