Kellyanne Conway Claims Trump Is Talking About a 'Rigged' Media, Not Electoral System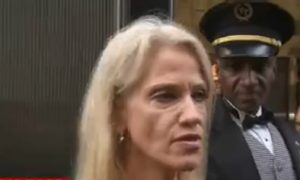 With Republican presidential nominee Donald Trump continuing to ramp up warnings that November's election will be stolen from him, and polls now showing a large percentage of voters agreeing with him, CNN caught up with Trump campaign manager Kellyanne Conway this morning to get her take.
Taking the position of a number of other Trump surrogates, including Trump's own running mate, Conway told Jason Carroll that the real estate mogul is simply talking about media bias when talking about a rigged system.
"Anybody who reads the newspaper online or in print or has a remote control probably has recognized that in many ways, the fix is in for Mrs. Clinton when it comes to the mainstream media," Conwawy told Carroll outside Trump Tower.
After stating that the country has been done a disservice by the media in regards to getting a chance to hear the issues when it comes to Trump, Carroll pressed her on Trump's own rhetoric about widespread voter fraud. Conway demurred when discussing that, saying the campaign would only look into actual cases when they occurred, but wasn't claiming it was an actual issue.
"There are any number of factors — if there's compelling evidence of voter fraud, obviously as early voting goes on," Conway said. "If there is, that certainly we would take action."
After the short interview ended, CNN posted a tweet from Trump that completely contradicted what Conway had just said.
Of course there is large scale voter fraud happening on and before election day. Why do Republican leaders deny what is going on? So naive!

— Donald J. Trump (@realDonaldTrump) October 17, 2016
Trump is scheduled to be in Green Bay, Wisconsin later today for a rally.
[image via screengrab]
–
Follow Justin Baragona on Twitter: @justinbaragona
Have a tip we should know? tips@mediaite.com