Kellyanne Conway: It's Not Like Rex Tillerson and Putin 'Are Godparents to Each Other's Children'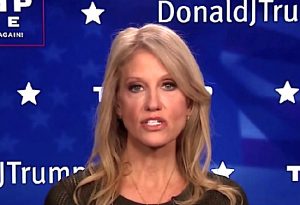 During an appearance on MSNBC today, Trump campaign manager and senior adviser Kellyanne Conway commented on President-elect Donald Trump's likely Secretary of State pick Rex Tillerson.
There has been a decent amount of criticism lobbed at the incoming administration over the rumored Tillerson selection. Besides him being the CEO of ExxonMobil and not having any government experience, there are concerns over his relationship with Russia and Vladimir Putin. (Tillerson received Russia's Order of Friendship award a few years ago.)
Speaking to host Andrea Mitchell, Conway made sure to note that the selection hasn't been made yet and nothing is official until Trump says so. She then praised Tillerson's experience as a businessman, specifically his dealmaking with other countries and advancing American interests.
Mitchell wanted to know if there was any concern from the Trump team regarding the amount of criticism coming from Republicans who feel Tillerson is too tight with Russia and if this might dissuade him from making the choice.
"The relationship between ExxonMobil's Tillerson and Vladimir Putin and Russia, it depends on what that relationship is," Conway explained. "It's a business relationship."
The veteran pollster then stated that it isn't as if the two men are all that close.
"It's not as if they're intimate friends, not as if they're godparents to each other's children," she said. "It can be looked upon as an asset, not a liability."
The interview then moved onto Trump's meetings today at Trump Tower, which included Carly Fiorina.
watch the clip above, via MSNBC.
[image via screengrab]
–
Follow Justin Baragona on Twitter: @justinbaragona
Have a tip we should know? tips@mediaite.com