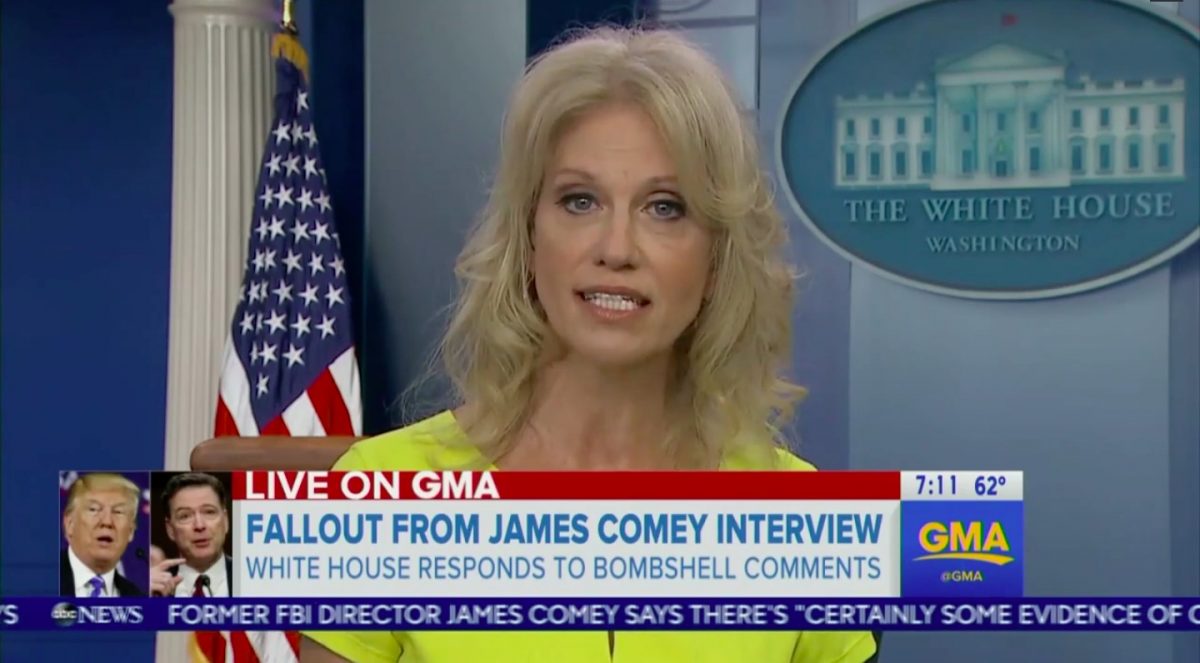 Kellyanne Conway doesn't actually think that James Comey's decisions in the 2016 election affected the outcome, clarifying remarks she made on Good Morning America this morning.
"I rolled my eyes and said 'Really, this guy swung an election?' It was sarcastic," Conway told The Daily Beast moments after the interview.
This misleading headline should include an eye roll and question mark. Point I made on 3 shows is that we are supposed to believe THIS guy swung an election? I don't think so. Kellyanne Conway slams Comey: 'This guy swung an election' – ABC News https://t.co/f0GdDE6Tvd

— Kellyanne Conway (@KellyannePolls) April 16, 2018
He did not. He swung and miss. I was putting to bed that he was even capable of such a thing. Add sarcasm and stir. https://t.co/fXkoFPn3aC

— Kellyanne Conway (@KellyannePolls) April 16, 2018
The interview itself was a bit odd as George Stephanopoulos had to stop Kellyanne a few times and assert the truth amidst her false remarks.
She alleged that Comey "admitted" that President Donald Trump did not ask him to drop the investigation into former national security adviser Michael Flynn, saying that Comey said that the Justice Department never asked him to end the investigation, but that Trump himself was pretty clear in that wish.
"This man loved being in the proximity of power… until he got fired and wrote a book," Conway shot back.
[image via screengrab]
Have a tip we should know? [email protected]