Kelly's Court Tackles The Case Of Greek Athlete Kicked Out Of Olympics For Racist Tweet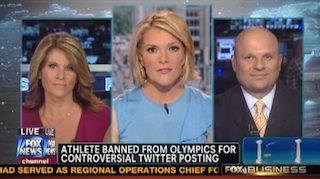 A few days ago, Greek triple-jumper Voula Papachristou got in hot water by tweeting something that translates roughly to, "So many Africans in #Greece at least West Nile mosquitoes will eat homemade food." The Hellenic Olympic Committee quickly responded by giving her a ban from the entire 2012 games. Today on Fox News, Megyn Kelly convened Kelly's Court to discuss whether that was a step too far.
Defense attorney Arthur Aidala thought that it was. He proposed that Papchristou didn't hurt anyone and that the tweet itself wasn't that racist, after all, the West Nile is in Africa. Kelly, however, pointed out that there were other tweets promoted extremist groups (the group in question was the Neo-Nazi group Golden Dawn). However, Kelly did play devil's advocate with that idea, reminding that, were we to ban anyone who was in a bad group, what would we do with, say, Middle Eastern countries with anti-semitic governments?
Fellow attorney Jonna Spilbor was on the side of banning, pointing out that this wasn't rare.
"If you look at the Olympic Committee rules, they ban a lot of things, not just prejudiced remarks. You can't advertise, for example, for different companies and such. So, I think, you're supposed to represent the entire package. And isn't it privilege, you guys? You don't have a right to go to the Olympics."
The fact seems to be, if you embarrass your team publicly, the team can send you triple jump-jump-jumping on your way.
Watch the segment from Fox News below:
Have a tip we should know? tips@mediaite.com