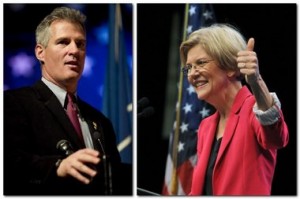 Yesterday, we learned that Sen. Scott Brown agreed to debate opponent Elizabeth Warren at the Edward M. Kennedy Institute — on one condition: MSNBC drops out as a sponsor. On Tuesday, the Institute rejected Brown's request, deeming it "unprecedented" and "inappropriate."
RELATED: Scott Brown Accepts Senate Debate With Elizabeth Warren, As Long As MSNBC Drops Out As Sponsor
Brown, who was invited by Vicki Kennedy (widow of the late Sen. Ted Kennedy), further said, he'd participate if Kennedy pledged not to make any endorsement throughout the race.
Kennedy Institute COO Lisa McBirney and chief of staff Christopher Hogan wrote in a letter released Tuesday:
"This non-endorsement pledge is unprecedented and is not being required of any other persons or entities. To us, such a pledge seems inappropriate when a non-media sponsor issues a debate invitation.
[…]
Given the goodwill and understanding of the non-partisan mission of the Institute that Senator Brown has thus far shown, it seems inconsistent that he would now attempt to restrict the activities of Mrs. Kennedy as a condition of accepting a debate that is co-sponsored by an organization with which she is affiliated.

Massachusetts, like many states, has a long history of media-sponsored debates, and quite often, the media outlets that co-sponsor them, such as the Boston Globe and the Boston Herald — or The Des Moines Register, for that matter — also endorse candidates."
Kennedy's invitation (a copy of which was obtained by POLITICO) said the debate "would be carried live on our local NBC affiliates and/or MSNBC." The Institute said they still hope to work out terms for a debate.
(H/T TPM)
Have a tip we should know? tips@mediaite.com