Kerry Battles Wallace: 'You Don't Ever Want to Give Obama Admin Credit for Anything'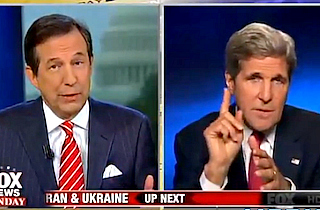 Secretary of State John Kerry and Fox News Sunday host Chris Wallace had a tense exchange Sunday morning, even before the two got to Kerry's comments on an Israeli strike that were captured by Fox and played back to him.
Wallace and Kerry first sparred over toughening sanctions on Russia following the downing of flight MH17, allegedly by Moscow-backed Ukrainian separatists. Wallace played a clip in which Obama seemed to acknowledge the ineffectualness of U.S. sanctions, a clip Kerry strongly suggested was taken out of context.
RELATED: Kerry Slams 'Trigger Happy' Critics: U.S. Should Be 'Proud' of Obama's Diplomatic Successes
But things got real heated after Wallace characterized the negotiations over Iran's nuclear deal as counterproductive. Kerry, who has been orchestrating the talks since even before he was Secretary, took particular umbrage at this, arguing that the Obama administration had achieved a rollback in Iran's nuclear development for the first time in a decade.
"I know you and others don't ever want to give the Obama administration credit for almost anything, but the fact is this is the first administration to get a rollback in those ten years," Kerry said. "Right now, Israel and the countries in the region and the world are safer."
The two continued talked over each other, with Wallace finally protesting that the time limits had been set by Kerry's people, not Fox.
Watch the clip below, via Fox News:
[Image via screengrab]
——
>> Follow Evan McMurry (@evanmcmurry) on Twitter
Have a tip we should know? tips@mediaite.com