Kerry Defends Comments About 'Living in a Period of Less Daily Threat' to U.S.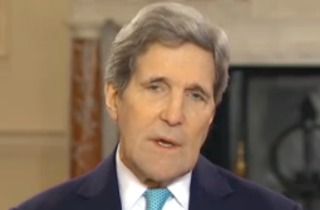 On ABC's This Week yesterday, Secretary of State John Kerry defended his remarks last week about the decrease in threats to Americans despite groups like ISIS killing many and threatening the United States. Many media outlets last week took note of two different testimonies to Congress: Kerry's and Director of National Intelligence James Clapper's.
Clapper testified that 2014 was the "most lethal year for global terrorism in the 45 years such data has been compiled." Just a day earlier, though, Kerry testified, "We are actually living in a period of less daily threat to Americans and to people in the world than normally
Martha Raddatz pressed Kerry on ABC's This Week yesterday and asked, "Can you understand why the American people just aren't feeling that?" Kerry said of course he does, and clarified that he's not trying to downplay the slaughter carried out by ISIS.
However, he did not back down from his remarks:
"I still stand by what I said, which is in large terms, compared to the last century, there are, in fact, fewer people dying of the means — that you look at, by state war, violence, health, et cetera."
He did say that Clapper is right about an "uptick in the level of terrorism and specific incidents of people being killed."
You can watch Kerry's full appearance here (the relevant part comes in at the 2:15 mark), via ABC:

World News Videos | US News Videos
And you can watch both Clapper and Kerry's earlier comments below, via C-SPAN:
[image via screengrab]
— —
Follow Josh Feldman on Twitter: @feldmaniac
Have a tip we should know? tips@mediaite.com
Josh Feldman - Senior Editor