Kerry Publicly Warns Russia It's Their 'Last Chance,' But Indicates Crimean Takeover Acceptable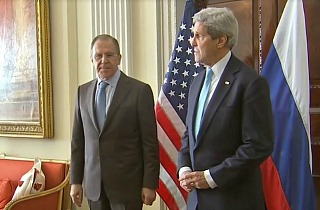 Secretary of State John Kerry met with his Russian counterpart, Foreign Minister Sergei Lavrov, in London on Friday ahead of Sunday's referendum in occupied Crimea which will determine whether the peninsula secedes from Ukraine and joins the Russian Federation. With Russian troops amassing on the Ukrainian border ahead of the weekend vote, Kerry is publicly warning Russia that they have one last chance to avoid the imposition of sanctions. However, reports indicate that Kerry is indicating that Moscow can avoid sanctions as long as they do not outright seize the Ukrainian territory and remain satisfied with their present level of military and political control over the peninsula.
"Kerry and Lavrov both said they were glad to meet, but behind closed doors Kerry's message is, 'This is your last chance,'" Said CBS News reporter Margaret Brennan from London on Friday. "Pull back from Crimea, call off Sunday's referendum, and talk to Ukraine. If not, Russia will face sanctions from the U.S. and Europe by Monday."
RELATED: WATCH: Russian Military Hardware Building Up on Ukrainian Border
But Kerry's statements on the Crimean crisis are sending mixed signals about just what level of annexation of the Crimean peninsula is acceptable to the United States. Earlier reports indicate that Kerry has said that the West will press Moscow to accept "something short of full annexation" of the peninsula. This suggests the U.S. is amenable to Russia's present total military and political control over Crimea so long as they stop short of redrawing the borders of Europe.
Kerry has also been careful to tell American lawmakers that the U.S. recognizes Russia's interests in Ukraine and that those interests must be protected.
On Thursday, as more Russian troops and military hardware raced toward the Ukrainian border, Moscow shut down access to a number of independent media outlets. In the Eastern Ukrainian city of Donetsk, violent clashes broke out when pro-Russian protesters broke through a police cordon and attacked pro-European Ukrainian demonstrators. The clashes resulted in tens of injuries and at least one death.
Regardless of Kerry's vacillating pronouncements, it appears that the Russians are prepared to secure their own interests in Ukraine without the West's assistance.
UPDATE: Lavrov has declared that the latest violence in Donetsk is evidence that the city is under siege from "right-wing radicals" and that Russia has the right to offer the city's residents it's "protection."
Watch the report on ongoing diplomacy below via CBS News:
[Photo via screen grab ]
— —
> >Follow Noah Rothman (@NoahCRothman) on Twitter
Have a tip we should know? tips@mediaite.com