Kerry: Russia Whipping Up 'Nationalistic Fervor' Like What Led to World War II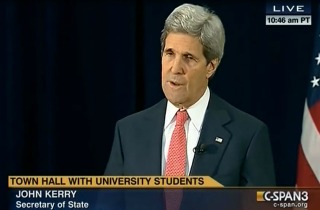 Secretary of State John Kerry informed a group of students on Tuesday that the administration has drawn a "hard line" against a possible Russian invasion of East Ukraine. He said that such a step would be an "egregious" escalation of tensions in Eastern Europe, but he said that Russia has appealed to tactics reminiscent of another era of history. Kerry specifically said that Russia has been fomenting "nationalistic fervor" similar to what led moved Germans to pre-World War II militarism.

Asked what the White House's response would be if East Ukraine was invaded by Russia, Kerry said the administration regards that action as a "major breach."
"That would be as egregious as any step that I can think of that could be taken by a country in today's world, particularly by a country like Russia where so much is at stake," he continued.
RELATED: Shots Fired as Russian Forces Storm Ukrainian Military Bases in Crimea
"Today is egregious enough, when you raise the nationalistic fervor which could, in fact, infect in ways that are very, very dangerous," Kerry asserted. "All you have to do is go back and read in history of the lead up to World War II and the passions that were released with that kind of nationalistic fervor."
Kerry added that Russia's rationale for invading Crimea was to protect ethnic Russia's, a rationale used by the Soviet Union to invade a number of members of the Warsaw Pact over the course of the 20th Century.
Watch the clip below via C-SPAN 3:
[Photo via screen grab]
— —
> >Follow Noah Rothman (@NoahCRothman) on Twitter
Have a tip we should know? tips@mediaite.com