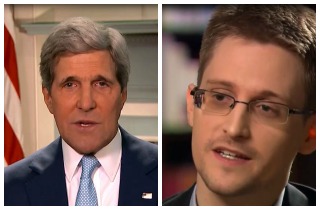 Secretary of State John Kerry toured the network morning shows on Wednesday to discuss the administration's plan to leave Afghanistan and to increase the commitment to the training of Syrian rebels. Each show, however, asked Kerry for his thoughts on NSA leaker Edward Snowden, who recently resurfaced in an interview on NBC. Kerry took each opportunity to attack Snowden, and to emphasize that he should return to America to face justice for his actions.

"The bottom line is this man has betrayed his country, sitting in Russia where he has taken refuge," Kerry said after dismissing Snowden's work at the NSA as "computer stuff" on CBS's This Morning.
"You know, he should man up and come back to the United States," Kerry continued. "If he hasn't complained about what's the matter with American surveillance, come back here and stand in our system of justice and make his case."
"Instead he's sitting there taking pot shots at his country, violating the oath that he took, and betraying, I think, the fundamental agreement that he entered into when he became an employee," Kerry's CBS appearance concluded.
Video
In another morning show appearance on Wednesday, this time on NBC's Today, anchor Savannah Guthrie played a clip of Snowden blaming the State Department for revoking his passport and ultimately forcing him to seek refuge in Russia.
"For a supposedly smart guy, that's a pretty dumb answer," Kerry said, reacting to that accusation. "If Mr. Snowden wants to come back to the United States today, we'll have him on a flight today. We'd be delighted for him to come back."
He added that, as a fugitive from justice, Snowden is not allowed to travel freely with U.S. support.
Kerry was asked if he or the administration has softened their position on Snowden in the year since his first leaks about American intelligence gathering practices went public. "To be hiding in Russia, an authoritarian country, but to have just admitted that he was trying to get to Cuba, what does it tell you?" Kerry replied.
Visit NBCNews.com for breaking news, world news, and news about the economy
[Image via screengrabs]
— —
>> Follow Noah Rothman (@NoahCRothman) on Twitter
Have a tip we should know? tips@mediaite.com