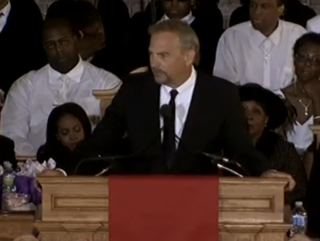 Among those honoring Whitney Houston today was The Bodyguard costar Kevin Costner, who told the story of how he got to work with her in that film, what the two had in common and what it meant to him to lose her. Sharing stories of getting in trouble at his Baptist church and how he delayed filming the film to wait for her to stop touring, and consoled her when she felt insecure of her ability to nab the role that made her a superstar.
RELATED: Watch Tyler Perry's Moving Homage To The Grace Of Whitney Houston At Her Funeral
Costner first called for the audience to "suspend our sorrow, just our anger, just long enough to remember the sweet miracle… never forgetting that Cissy and Bobbie Kristina are still among us." The audience cheered as he noted that he, too, was in a Baptist church, that he had gotten in trouble for stealing small cups of grape juice used for Communion, for being dragged out by his parents for misbehaving. He noted that he shared this with Houston and that he could see her getting in trouble similarly as a child, and then told the story of how he got Houston to play the lead role in The Bodyguard.
"Why don't you think of another singer, maybe somebody white?" he noted that many studio executives implied to him, when they asked why he was so dead set on having Houston in the movie. "I told everyone I had taken notice that Whitney was black, the only problem was I thought that she was perfect for what we were trying to do." He postponed production for a year while she was on tour.
Her greatest setback and greatest strength, Costner said, was her insecurity. "Am I good enough, am I pretty enough, will they like me?" he said she wondered, then speaking to her to say "you set the bar so high that professional singers, your colleagues, don't want to sing that little country song, what would be the point? Little girls like you who dream of being you someday sing that song."
He left the audience with the knowledge that, now, "there is a lady in Heaven making God Himself wonder how he created something so perfect," and spoke to Houston to tell her to never fear again that she was not the great she was on Earth.
Watch him speak to the church via Fox News below:
Have a tip we should know? tips@mediaite.com