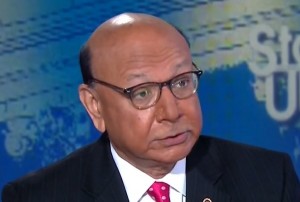 The inexplicable feud that Republican presidential nominee Donald Trump has elected to escalate with the parents of the late Captain Humayun Khan, a Muslim soldier who was killed in Iraq, continued to unfold Sunday morning, as Khizr Khan responded to Trump's overnight attempt at damage control. On CNN's State of the Union, Khan said that while he appreciated Trump's acknowledgement of his late son's heroism, Mr. Khan said he stood by his criticisms of Trump's positions and practices.
Fill-in host Jim Acosta asked Mr. Khan to respond directly to Trump's suggestion that Mrs. Khan remained silent onstage at the DNC out of some form of religious oppression, and Khan let Trump have it, explaining that his wife was too distraught to speak, that she risked medical consequences to stand there, and that Trump needs to learn some empathy:
For this candidate for presidency to not be aware of the respect of a gold star mother standing there, and he had to take that shot at her, this is height of ignorance. This is why I showed him that constitution. Had he read that, he would know what status a gold star mother holds in that nation. This country holds such a person in the highest regard. And he has no knowledge, no awareness. That is height of his ignorance. She is ill. She had high blood pressure. People that know her, looked at her face, and she said, I may fall off the stage. And I told her that, you have to assemble yourself and stand for the beauty of this tribute that is being paid. This person is total incapable of empathy. I want his family to counsel him, teach him some empathy. He will be a better person if he could become — but he is a black soul.
Mrs. Khan tackled Trump's insinuation head-on in the op-ed her husband spoke of:
I cannot walk into a room with pictures of Humayun. For all these years, I haven't been able to clean the closet where his things are — I had to ask my daughter-in-law to do it. Walking onto the convention stage, with a huge picture of my son behind me, I could hardly control myself. What mother could? Donald Trump has children whom he loves. Does he really need to wonder why I did not speak?

Donald Trump said that maybe I wasn't allowed to say anything. That is not true. My husband asked me if I wanted to speak, but I told him I could not. My religion teaches me that all human beings are equal in God's eyes. Husband and wife are part of each other; you should love and respect each other so you can take care of the family.

When Donald Trump is talking about Islam, he is ignorant. If he studied the real Islam and Koran, all the ideas he gets from terrorists would change, because terrorism is a different religion.

Donald Trump said he has made a lot of sacrifices. He doesn't know what the word sacrifice means.
Trump was roundly lambasted for suggesting that he has made "sacrifices" like hiring people to work at his companies.
Have a tip we should know? tips@mediaite.com