Kid Rock Praises 'Mind-Bogglingly Great Man' Romney, Reveals Which GOP 'Black Guy' He Likes These Days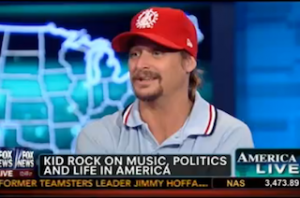 Kid Rock was perhaps Mitt Romney's most surprisingly outspoken celebrity supporter in 2012 and today he went on Fox News with Megyn Kelly to share some of his political views. Rock said he'd "never met a more decent human being in his life" than Romney but at the same time urged politicians and the media to move away from their divisive view of the country.
When Kelly asked Rock why he decided to support Romney so wholeheartedly in 2012, he said it was because he simply liked the man. "It was mind-boggling how great of a man that guy is," he said, adding, "I can't say I would do that for too many people." He acknowledged the "blow-back" he received for the being "the only righty in the lefty industry."
After showing a clip of a PSA he made with Sean Penn, Rock lamented the fact that the country seems be just as divided ideologically as ever. And he wasn't about to put all of the blame on President Obama's scandals. "I think the media is sometimes just as out of hand as the politicians are," he said. "because we're taking sides rather than reporting things honestly."
Rock also weighed in on which member of the Republican Party is getting his support now that Romney is out of the picture. "I like, uh, Herm–no, the black guy…" Rock began, prompting Kelly to ask him to be more specific. "Ben Carson!" Rock recovered. "Watching him speak, his views on political correctness… I dig where that guy's coming from."
Finally, Kelly asked Rock to weigh in on her good friend and fellow Fox host Dana Perino's recent foray into rap. After watching the short clip, Rock said, "This is giving white people a bad name." Ouch.
Watch video below, via Fox News:
—
>> Follow Matt Wilstein (@TheMattWilstein) on Twitter
Have a tip we should know? tips@mediaite.com