Killer Mike on Hillary 'Uterus' Comment: I'm Against People Telling Me Who to Vote For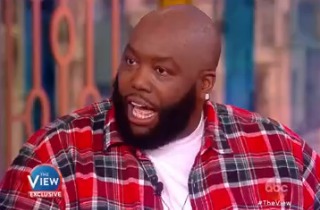 Killer Mike was asked on The View today about the flak he's been getting for saying that having a uterus did not qualify Hillary Clinton to be the next president.
Joy Behar asked the rapper and Bernie Sanders supporter about the comments right away, and he shot back at "sexist" allegations by bringing up his social justice work for women.
"I have no qualms with Hillary Clinton. I have nothing against her," Killer Mike said. "I have something about big money being in politics. I have something against you telling me I must vote for someone because I'm black or because you're a woman."
The rapper went on to say that the quote came up as part of a conversation he was having with activist Jane Elliot, and that it was taken out of context from a broader discussion. When asked if he condoned the quote by repeating it, Killer Mike argued that being a woman does not automatically hand Clinton the presidential nomination, and that the flak was similar to bullying he saw civil rights activists get for not adhering to certain positions.
"I have a choice between two politicians who are equal in terms of asking for my votes," the rapper said. "I put every politician I have voted for or against on a table, on a tracing paper, and see how their policy matches up with the social justice policy of Dr. Martin Luther King. When I put Hillary Clinton on there, she comes up short."
Watch above, via ABC.
[image via screengrab]
Have a tip we should know? tips@mediaite.com