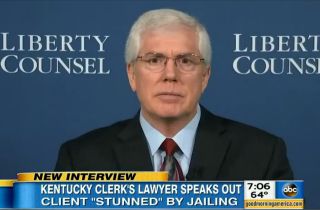 An attorney for Kim Davis, the Kentucky clerk who was jailed on Thursday for refusing to issue marriage licenses to same-sex couples on religious objections, indicated Friday morning that she will not back down in the face of mounting criticism, and is prepared to stay behind bars to defend her beliefs.
Asked on Good Morning America if Davis should resign given that her religious conscience conflicts with the law, Mathew Staver said Davis, an elected official, should only resign if the people of Rowan County ask her to do so.
"She's a very well-liked individual in that community," Staver told George Stephanopoulos, adding that there are plenty of other clerks in Kentucky who feel the same way as Davis about issuing marriage licenses to same-sex couples. Their one request, Staver said, is to leave their names off of marriage licenses that "collide with their religious beliefs."
Staver also indicated that he doesn't believe the federal judge who found Davis in contempt of court will release her even if the deputy clerks issue marriage licenses. Five of the six deputies said they would approve the licenses — which would have Davis' name on them anyway — with the one objection coming from Davis' son.
"One thing about Kim, she may be incarcerated behind the jail bars, but her conscience remains free," the attorney said. "And just knowing Kim, she's made a decision, and she can't violate that conscience, and she can't have this collision with her religious convictions."
Staver also told Stephanopoulos that Davis will, under no circumstances, "violate her conscience," and is "prepared to face whatever it is" to defend her beliefs.
Watch the video below, via ABC:
[Image via screengrab]
UPDATE – 3:10 P.M. ET Staver gave a press conference at 3 PM today shortly after meeting with Davis at the jail. Staver reiterated that Davis has no intention of resigning her post, saying that she is a 'prisoner of her conscience,' and the first official to be jailed for defying Obergefell V. Hodges.
— —
>>Follow Andrew Desiderio (@desiderioDC) on Twitter
Have a tip we should know? [email protected]