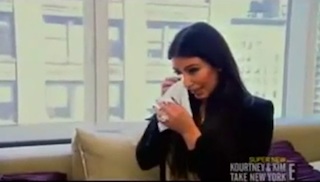 Well, here we are in 2012. And you know what that means; the world is going to end in a few months. The signs are everywhere if you're willing to look. There are wars, famine, and the dead have even begun to walk the earth.
…ok, well, they're not actually walking the earth yet. They are, however, busy ending marriages. That's the takeaway from last night's episode of Kourtney and Kim Take New York in which it was revealed that the ghostly advice of Kim Kardashian's dead father, Robert Kardashian, Sr., was what caused her to end her marriage with Kris Humphries.
Well, this explains all the booing that Humphries has been getting. That's actually just ghosts saying "Boo!" How spooky!
Unless you're the luckiest person alive, then you probably know about Kardashian and Humphries' divorce. The current season of the young singer actress rich person's reality show has been dedicated to discovering just what went wrong in their seemingly storybook romance. Basically, watching it is like watching the recent seasons of Mad Men…if you watch with the sound off, your eyes squinted, and you have extensive brain damage.
Anyway, last night, viewers got to see the exact moment Kim realized her marriage was over. The answer? It was after she talked to psychic John Edward and he claimed her late father had mentioned divorce and stuff. Gosh, it's just a tale as old as time with these folks.
Anyway, the only question remaining is just whose ghost Seal and Heidi Klum talked to. My guess is Millard Fillmore. That guy always hated true love.
Watch the clip from E! below:
Have a tip we should know? tips@mediaite.com