Kim Kardashian To Attend White House Correspondents Dinner As Fox News' Guest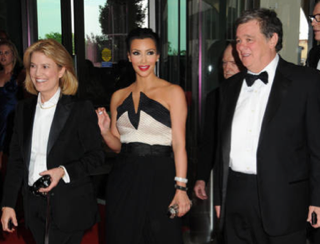 If you are anything like me, the news that Greta Van Susteren would be accompanied this year at the White House Correspondents' Dinner by Lindsay Lohan was a bittersweet announcement. Last year, Van Susteren attended alongside Kim Kardashian and Kris Jenner, the reigning queens of guilty pleasure TV. Sure, Lohan was a fun guest, but would this mean the Kardashians would find themselves excluded from this year's Nerd Prom fun? Rest easy, Kardashifans (is this a real term?), for Fox News has us all covered, extending an invite to Kim and her mom, along with a number of television's biggest stars.

RELATED: Fox's Greta Van Susteren Bringing Lindsay Lohan To White House Correspondents' Dinner
According to the Washington Examiner, the list of guests attending the annual dinner as guests of Fox News Channel include a number of well-known TV guests, with Kardashian at the top of the list:
Fox News Channel will be bringing a smattering of reality TV stars, actors and an athlete too, to Saturday's White House Correspondents' Dinner. We hear that Kim Kardashian will be making a repeat appearance at the dinner (she previously attended with Fox News' Greta Van Susteren), with her momager Kris Jenner in tow. "Real Housewives of New Jersey" stars Caroline and Al Manzo are coming this year.

Returning favorites like "Gossip Girl's" Chace Crawford, along with his sister Candice Romo and her hubby, Dallas Cowboys quarterback Tony Romo, are on the list. "J. Edgar" screenwriter Dustin Lance Black is scheduled to attend, along with "X-Men" director Bryan Singer.
For those for whom a cast of Glee and Gossip Girls stars may not be their cup of tea, Fox News is also bringing in tow some of their biggest stars, including five of the members of The Five (Bob Beckel, Eric Bolling, Kimberly Guilfoyle, Andrea Tantaros and Greg Gutfield) and Fox Business stars Liz Claman and Charlie Gasparino.
Have a tip we should know? tips@mediaite.com