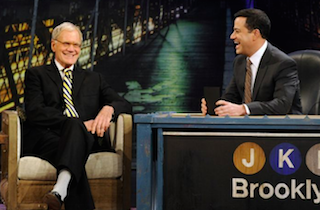 Jimmy Kimmel has never been shy about sharing his unconditional love for David Letterman, which made it all the more momentous when the two men ended up going head-to-head at 11:35 p.m. on rival networks starting in 2013.
Kimmel made his Late Show debut in 1999 and 13 years later he returned the favor, convincing Letterman to sit down with him in Brooklyn for a rare late night interview in which the late night legend wasn't seated behind the desk. When Letterman signs off next Wednesday night, Kimmel will air a repeat out of respect.
Before Letterman airs his final show, Kimmel has written an adoring tribute to his late night hero for Time magazine, chronicling his early efforts to stay up late for his NBC show without the help of a VCR through his first time seeing Letterman in person and then eventually getting to appear on the show.
RELATED: Conan O'Brien Pens Effusive Love Letter to David Letterman
"Every school night, I watched with the kind of simmering fervor described in newspaper profiles of teens who run away from home to fight for ISIS," Kimmel writes of his 9th grade life. "First period started at 7:35 AM, but Dave was more important than sleep."
Years later, when he was first booked on the show, Roseanne Barr went long and he was bumped. "I didn't mind," he writes. "It felt like a pardon from the governor." When he finally went on the show six months later, a producer told him that Letterman "really, really, no-kidding-around, I-rarely-see-him-like-this liked me and, though I was absolutely certain she was lying, I was ecstatic."
"As I write this, there are only 10 shows left before the funniest, most inventive and smartest man who ever wore an Alka Seltzer suit goes fishing for good," Kimmel adds later, before concluding, "Thanks Dave. For whatever it's worth, you're my favorite. (And Paul, I love you too.)"
Read the full essay at time.com.
Watch the first part of Kimmel's 2012 interview with Letterman below, via ABC:
[Photo via screengrab]
— —
>> Follow Matt Wilstein (@TheMattWilstein) on Twitter
Have a tip we should know? tips@mediaite.com