Kimmel Picks Up Kai The Hatchet-Wielding 'Homefree' Hitchhiker For Exclusive Interview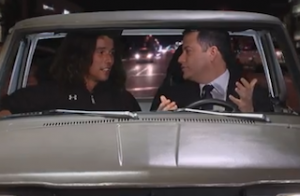 Monday night on his show, Jimmy Kimmel scored an exclusive interview with the internet's favorite hatchet-wielding homeless hitchhiker by "picking him up in his car." After Kai awkwardly climbed in the car, the two began to discuss the incident that rocketed him to fame.
As they "drove," Kimmel reminded his audience that Kai "thwarted that crazy guy" pretending to be Jesus. Kai responded, "well there's not much difference between him and who they sell as Jesus anyway, is there?" adding, "he was a far, rich white guy."
Kimmel shot back, "yeah, you're sitting next to one," before asking Kai what it's like to get recognized now that he's famous and what people have been saying to him on the street.
"They say, 'hey, you're Kai, you're that guy with the hatchet," Kai answered, before describing his plans to build an overly complex tree house with his hatchet. When Kimmel asked if his hatchet was magic, Kai said, "No, I'm just a bad ass motherfucker."
Kimmel also discovered from the interview that Kai prefers the word "homefree" to "homeless" and "the quickest way to devalue a currency is to stop believing in it." Kai did admit that he "jacks hella shit" from Walmart and Target, often giving what he steals to people he thinks might need it.
In his video, Kai said that all he really wanted was to get a Mini Mal surfboard and a wetsuit, so when he and Kimmel stepped out of the car, that's what was waiting for him on the set. For once, Kai was speechless.
Watch video below, via ABC:
—
>> Follow Matt Wilstein (@TheMattWilstein) on Twitter
Have a tip we should know? tips@mediaite.com