Rachel Maddow Defends John Boehner's Tears Before Giving Him A Reason To Cry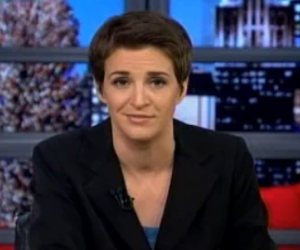 In a segment titled "I Second That Emotion," Rachel Maddow last night defended incoming Speaker of the House John Boehner's willingness to get emotional in public. She also admired the range of feelings "the most emotional politician in modern American history" has displayed from screaming on the House floor to being upset over "chicken crap." What Maddow doesn't like, however, is for anyone to be so consumed by the tears that they fail to focus on the substance of Boehner's words.
Maddown cited Hillary Clinton's emotional moment during the 2008 presidential campaign in New Hampshire, where she then went on to win that state's primary, as support for her argument:
There's nothing wrong with politicians showing emotion. There's nothing wrong with politicians crying in public. A) It demonstrably does not hurt them with voters, but B) it shows us what they feel passionately about, and what's wrong with that?
Although since Boehner is not an actor, Maddow is eager for the fascination about his crying to end. Especially since some of the issues he's cried about in the past, from bank bailouts to the future of kids are not consistent, in Maddow's opinion, with his actions. Maddow concluded, "crying in public is neat, I'm all in favor. Crying in public, however, is not the same thing as fixing the thing that makes you cry."
Maddow is great here at advancing the conversation beyond the silly (look everyone, a male politician is crying, he's the "weeper of the house") to the substantive issue of whether Boehner actually takes any positive steps on the issues he feels so passionately about, and the results so far suggest Boehner should grab a hankie.
Watch the clip from MSNBC's The Rachel Maddow Show below:

Have a tip we should know? tips@mediaite.com