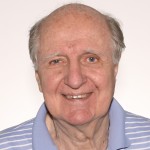 What a relief to get the odious Lou Dobbs out of the news business, at least for a while. Of all the degraders of the trade, he has been, well, to borrow the title from Keith Olbermann, the worst. Unlike the other, often inept, purveyors of political hysteria, he possessed the gravitas, voice of authority, expression of earnest concern, that could convey conviction to the point of persuasion to the uninformed, all the while providing emotional reassurance to his Know-Nothing core. Birthers. Immigrants as conveyors of leprosy. Xenophobia. Much more damaging to the lingering public regard for the news business than the obvious chicanery and food-fights among his putative competitors.
CNN/US President Jonathan Klein has been making the choice clear to Dobbs for some weeks: Objective, or out. Yesterday, all of a sudden, he let Dobbs make his own announcement: he was leaving CNN "to engage in constructive problem solving." Somewhere else.
Better than Dobbs' departure, though, is the choice of his replacement. John King, straight-story minded basic reporter, up from AP, lead political reporter for the network, in a powerful move to reclaim the tarnished CNN brand for non-partisan reporting. Geneva Overholser, director of the school of Journalism at the University of Southern California, concurs, she told the New York Times: "If CNN wants to be seen as the thoughtful, unbiased, middle-of-the-road alternative, this decision goes along with that."
Indeed it does. Even with Dobbs in the prime slot, CNN was outscored in the ratings by the polemics Fox on the right and MSNBC on the left. But its precious non-partisan reputation has been the core for double-digit growth of a worldwide empire of international networks and wholesale news reports, web site, wire services. It is hiring, and this month is opening a new production facility in Abu Dhabi. "That's what we deliver around the world," Jim Walton, president of CNN Worldwide, told David Bauder of AP. "We compete against a lot more than Fox and MSNBC."
King for Dobbs beefs up that batting order.
Bill Rappleye has spent the last 60-plus years in journalism. Read more about him here.
Have a tip we should know? tips@mediaite.com