Kirk Cameron Walks Into MSNBC Lion's Den To Talk Up 'Liberty And Freedom' At CPAC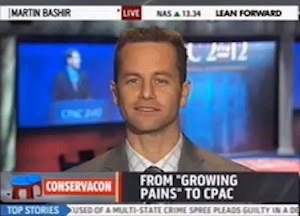 Growing Pains actor Kirk Cameron spoke with MSNBC's Martin Bashir Thursday, live from CPAC, to promote his new documentary Monumental, a "search for the real treasure of America" and how faith is its guiding principle.
Bashir noticed Cameron was wearing a sweater during his earlier speech and asked the former child star if he was supporting Rick Santorum.
"Boy, you watched the speech, I'm honored you took the time!" Cameron exclaimed, and denied he was endorsing anyone.
Cameron told Bashir he was at CPAC to teach others about America's rich history.
RELATED: Even Kirk Cameron Has No Idea Why CNN Brought Him On To Talk About Dead Birds
"That's why I went on this personal journey, to be able to put my hand on the bars of the dungeons that the Pilgrims were thrown into and actually hold John Hancock's John Hancock in my hands. So that I understand where we get the constitution, the Declaration, and the Mayflower Compact and all of the ideas that America has become famous for and produced this lasting liberty for 400 years."
"That's remarkable!" Bashir exclaimed and asked him whether there was a theological component to his message.
"I went on this mission to discover the secret recipe," Cameron explained to a fascinated Bashir. "I want to know the secret sauce. Tell us what it is so we can move forward with it. What I discovered is the seeds that blossomed into this great nation really began with the faith of the Pilgrims. These seeds were planted in their heart by their pastor John Robinson. He, himself, was standing on the shoulders of great mean down through the ages that have passed it on. When you get to the end of this journey that I took in Plymouth, Massachusetts after visiting Holland and Washington DC, you arrive onto a hill overlooking Plymouth Rock and the Atlantic Ocean, and you see a monument that is the largest granite statue in America, 180 tons of granite and her name is faith."
Watch the segment below via MSNBC:

Have a tip we should know? tips@mediaite.com