Kirsten Powers And Touré In Twitter Battle Over Supposed Racism Of Susan Rice's Republican Opponents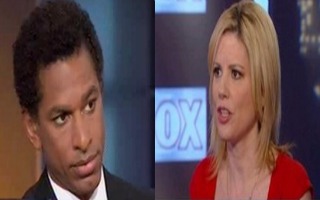 The Daily Beast columnist Kirsten Powers appears to have had it with MSNBC host Touré. On Friday, Powers took to her Twitter account to insist that Touré clarify his often repeated accusation that Congressional Republicans opposed to U.N. Ambassador Susan Rice replacing Sec. Hillary Clinton as the next Secretary of State are motivated by antipathy towards her race and/or gender.

On Tuesday, Powers caught wind of comments made by Touré on MSNBC's The Cycle, where he savagely attacked Sen. John McCain (R-AZ) for his vocal opposition to Rice's potential nomination to replace Sec. Clinton. Touré called McCain "bitter" over his 2008 loss to President Obama and said that the optics of white, Republican men attacking a black woman were terrible for his party.
[McCain] also gave us the horrible optics of he and Lindsey Graham as old, white, establishment folks wrongly and repeatedly attacking a much younger black woman moments after an election in which blacks and women went strongly blue. Looks like the GOP is already laying the foundation for losing in 2016.
Powers read the article and asked Touré where Sen. McCain's misogyny and racial prejudice were when he confirmed the black, female former Secretary of State Dr. Condoleezza Rice.


On Friday, Touré replied by citing language used by Sen. McCain, among others, which he apparently found to be exposing his true motives:

Powers seemed to be unswayed by Touré's reply:


Had this been a live exchange, it would have been transcribed as "crosstalk ensued." Fortunately, Touré and Powers continued their battle in easily dissectible 140 character tweets:




At this point, Touré dropped out of the exchange. Powers cited a column made by the left-of-center editor of The Nation magazine, Katrina vanden Heuvel, who attacked Condoleezza Rice for what she contended were misleading statements to the nation prior to the invasion of Iraq in 2003. Powers asked if vanden Heuvel was as motivated by racial hatred as Touré believes Sen. McCain is.

She has not yet received a reply.
> >Follow Noah Rothman (@Noah_C_Rothman) on Twitter
Have a tip we should know? tips@mediaite.com