Kirsten Powers And Tucker Carlson Trash Obama/Hillary's 60 Minutes 'Propaganda' Interview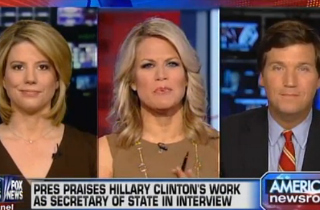 Appearing on Fox's Happening Now this morning, Fox contributors Kirsten Powers and Tucker Carlson trashed the President Obama/Secretary Clinton joint 60 Minutes interview as "propaganda" befitting of a state-run media organization, not CBS.
Asked whether she saw the interview as a "missed opportunity" for "real questions" about the administration's first term, Daily Beast columnist Powers went off on the entire ordeal: "It was something you expect from state-run media — that kind of level of propaganda as far as I'm concerned," she said.
"60 Minutes was transparently being used as a campaign advertisement, which, you know, if they're okay with that, then okay," she continued. "I understand agreeing to the interview, letting them have one softball question in the beginning and then move on to more important things. But the reality is, this was a joke. I mean it really was. You look at it, even just not challenging basic things, like the president claiming Hillary has been a great Secretary of State in part because they have dismantled al Qaeda."
She then went after interviewer Steve Kroft for ignoring other relevant issues of state, such as the ongoing struggles in North Africa: "Why is the president not asked about Algeria, Mali, Libya? These are front and center in the news right now. The next question after he says this is, 'I have to ask you, what's the date of expiration of this endorsement?' That's his follow-up question to the president saying that al Qaeda has been dismantled," she said.
Daily Caller founder Carlson added that "60 Minutes is a good show a lot of the time," but lamented that this is "consistent" behavior for the CBS program, as they stirred controversy back in September for "sitting on" a soundbite in which the president said he wasn't sure whether the Benghazi attacks were an act of terrorism or not.
Watch the segment below, via Fox:
— —
>> Follow Andrew Kirell (@AndrewKirell) on Twitter
Have a tip we should know? tips@mediaite.com