Kirsten Powers Battles Fox Panel: Right 'Obsessing' About Black Crime So They Can 'Stick It To Black Community'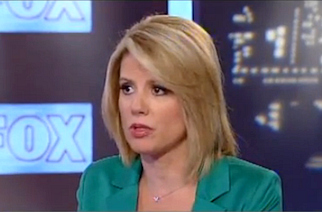 Fox News analyst Kirsten Powers sparred with the panel of Fox News Watch on Saturday afternoon over the specter of black crime, which conservatives have been using as a foil for the media's alleged obsession with the racial elements of the Trayvon Martin shooting.
Powers accused the right of being insincere in their sudden handwringing over black-on-black crime now that the subject can be invoked every time the Martin case comes up.
"If conservatives are so concerned about black-on-black crime, it is concerning the only time I hear them talking about it is when they want to stick it to the black community," Powers said. "And that's what it seems like. Right now that's the favorite topic. Topic A among conservatives is to talk about black-on-black crime. Black-on-black crime is a year-round problem but now everyone is obsessing about it because they can make black people feel bad about it."
Several members of the panel had brought up black-on-black crime as having been ignored while the media focused attention on the Trayvon Martin story, while columnist Cal Thomas invoked an incident of black on white crime that "has gotten no national attention," and Richard Grennell claimed that post-Trayvon Martin rally violence had gone underreported by the Los Angeles Times.
Powers also fought back against host Jon Scott's insinuation that the Justice Department was trying to inject race into the case by considering civil rights charges against George Zimmerman.
"I don't think there's anything unusual about that," Powers said. "After the Rodney King riots, you'll remember that the first George Bush also pursued federal action."
"There is something unusual about that," Scott maintained. "Murders happen every day, and frankly black-on-black crime is the far bigger problem."
"Thinking the fact George Bush did it demonstrates that it's not that unusual, when there's a situation that has captured the country's attention and people feel justice was not served," Powers said. "The verdict can be right and justice can not be served. I think that's what some people are missing."
Watch the full segment below, via Fox News:
—
>> Follow Evan McMurry (@evanmcmurry) on Twitter
Have a tip we should know? tips@mediaite.com