Kirsten Powers Challenges Bill O'Reilly Over Chris Lane: 'If Those Kids Didn't Have a Gun…'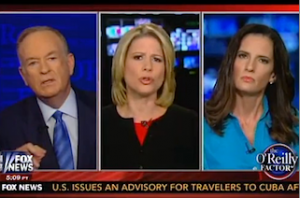 Bill O'Reilly opened his show with his take on the shooting death of Australian Chris Lane in Oklahoma that is quickly beginning to dominate the cable news conversation. O'Reilly's "Talking Points Memo" was followed by a heated debate with Fox analyst Kirsten Powers and conservative commentator Kate Obenshain over the meaning behind this terrible story.
O'Reilly challenged the NAACP and the "civil rights industry" to speak out against the murder and even questioned why President Obama has not yet made a statement on the matter. The host himself blamed the murder on a "cultural collapse among some very distinct groups" and warned against "a violent subculture" that is "fueled by derelict parents, a barbaric media and apathy on the part of many politicians."
Calling the murder a "terrible tragedy," Powers confronted O'Reilly on his opening monologue, saying, "I don't quite understand the expectation that the president would be speaking about it or any other groups because, unlike the Trayvon Martin case, the attackers were immediately arrested."
"I don't think there is a racial overtone to this," O'Reilly clarified. "However, I think the question is legitimate, you know, if you are going to weigh in on one, you weigh in on the other."
Obenshain accused Obama and others of "jumping at the chance to weigh in when a horror would further their political goals, and that's a horrible thing." She said, "when it served the president's agenda to sort of stir up racial animosity, he compares Trayvon Martin to what his son would look like."
That was one step too far for O'Reilly who said Obama's comments on the Martin case was a "political move" and nothing more. He then led into the discussion of "gang culture" and guns, which turned into a contentious back and forth with Powers.
When O'Reilly suggested that Obama doesn't believe we have a serious problem with violence in this country, Powers shot back, "On what planet does the president not believe we have a problem, Bill?" She said that like the president, she believes "our gun culture is what is behind this. Trust me if those kids didn't have a gun, that guy would be alive."
O'Reilly said it was time for Powers to "accept" the "historical situation" in the country that has led to "100 million guns on the street of America." He added, "When the country was settled, everybody had a gun."
When he returned to the "corruption of certain groups," Powers appeared to call him out on his racial implications. "What do you mean certain groups?" she asked. "There are plenty of white people who use guns to go in and kill people, like children in elementary schools in fact when i think of it it. Suddenly it's just black people who have a problem with guns?"
Watch video below, via Fox News:
[photo via screengrab]
—
>> Follow Matt Wilstein (@TheMattWilstein) on Twitter
Have a tip we should know? tips@mediaite.com