Kirsten Powers Chides Fox Guest Who Blames Obama's Low Polls On Twitter: Media's 'Love' Is Unprecedented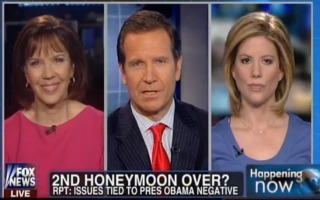 A Fox News Channel panel discussion on Thursday became heated during a discussion about the reasons behind President Barack Obama's dip in his job approval polling numbers. When Fox anchor Jon Scott cited a political analyst who blamed Obama's sagging approval on the relentless attacks the president is subject to by conservatives on Twitter and a panel guest agreed with that assessment, Daily Beast columnist Kirsten Powers flatly dismissed this explanation as absurd. "No president has ever had such deference and such love among the media," Powers said.

RELATED: Obama's Spiraling Job Approval Ratings Complicate Negotiations With Congressional Republicans
Scott showed a graphic produced by a Republican consulting firm which evaluates the tone of the media's coverage of a variety of different subjects. The graphic showed that the media's focus on issues has been mostly negative. Scott suggested that this portends the end of the president's "honeymoon" with the press.
Powers said that this reaction from the press and the public should be expected. "Historically, the last four presidents who've won reelection, there's always a dip around this time," she said. "It's fair to say that the honeymoon was over, though historically I think it's pretty common."
Scott asked contributor Judith Miller why this would be the case, given that the first months of Obama's second term were characterized by a series of victories over Congressional Republicans. Miller replied that the president did not begin his second term with a strong approval rating, and the drop in his popularity should have been predictable.
"If you start out with a highly partisan, politicized electorate, they're going to really come down on you like a ton of bricks if you do anything they don't like," Miller added.
She said that, given Obama's successful trip to the Middle East, the drop in the president's approval rating shows that the public is myopically focused on the economy and economic uncertainty.
Scott turned to Powers and asked if Obama can successfully pursue an ambitious second term agenda given the dip in job approval ratings. Powers said that she was not sure if the president's agenda was going to be stalled, but Obama's ratings dip may complicate any effort to pass sweeping social reforms.
Scott cited Washington Post political reporter Chris Cillizza who blamed social media for the president's inability to maintain a high job approval rating. "It's really tough to go up against channels that are nonstop very critical of you," Miller agreed, "bloggers who never wanted you to be reelected in the first place. And I think the steady drumbeat of criticism is something that previous presidents never had to worry about."
"I have to disagree with what Judy said," Powers interjected. "No president has ever had such deference and such love among the media. So, whatever's happening on Twitter among conservatives, I don't really think – Bill Clinton would have killed for the kind of press that Barack Obama gets."
"Whatever's happening on Twitter is more than balanced out by the fact that most of the mainstream media is carrying water for him," Powers concluded.
Watch the segment below via Fox News Channel:
> >Follow Noah Rothman (@NoahCRothman) on Twitter
Have a tip we should know? tips@mediaite.com