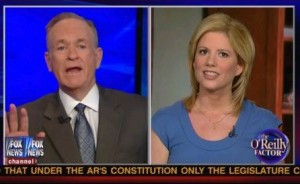 It's pretty clear that for the foreseeable future, we will be talking about nothing but the Fast & Furious scandal. It's the first big Obama administration scandal (they grow up so fast), and Bill O'Reilly helped keep the story in the headlines by accusing liberals of trying to paint the investigation into a racially-tinged partisan witch hunt. Kirsten Powers agreed with O'Reilly that race is certainly not at play here, but insisted the investigations are just a "fishing expedition" by Republicans in Congress.
RELATED: Geraldo: GOP Sought 'Destruction Of First African American Attorney General' Before Election
O'Reilly first highlighted the plight of Kent and Josephine Terry, the parents of Brian Terry, the border agent killed by drug traffickers using guns connected to the ATF operation, and said they have every right to know exactly what happened to their son. He agreed with Terry's parents that the Obama administration seems to be holding back information rather than sharing details of the operation.
But O'Reilly had far more fun tearing into Nancy Pelosi for defending Attorney General Eric Holder against Congress officially holding him in contempt. Pelosi connected the vote to Holder fighting for minority voting rights, which O'Reilly attributed to a larger pattern on the left of making the Republican-led investigation all about race. He noted that most people who play the race card know it's wrong, but they do it anyway out of desperation to latch onto an argument.
Powers agreed, telling O'Reilly that Pelosi's defense of the attorney general "sounds desperate to me." Powers clarified that she does believe the entire investigation is just a "fishing expedition" on the part of congressional Republicans, but dismissed the idea that it's part of some grand conspiracy to combat Holder on voting rights. She agreed with O'Reilly that the parents have a right to know what happened, but disagreed with him on whether the investigation is being carried out in their best interests.
O'Reilly asked Powers exactly what's being done that is not advancing the real investigation. Powers argued that it's turned into a witch hunt instead of a race to hold people accountable. She noted that the Obama administration has "disavowed the program and stopped it. so what are we really talking about here?"
RELATED: Michael Steele: Optics Of Holder Contempt Hearing 'Not Good For The GOP'
When O'Reilly turned to Democratic strategist John Hlinko to try and convince him the requests made of Holder have been nothing but reasonable, Hlinko pointed out that Fast & Furious technically began under the Bush administration and wondered why Darrell Issa hasn't dragged anyone from the Bush Justice Department to the Capitol to testify. O'Reilly dragged the conversation back to Brian Terry, insisting the documents related to his death are of the utmost importance.
Watch the video below, courtesy of Fox News:
Have a tip we should know? tips@mediaite.com
Josh Feldman - Senior Editor