Kirsten Powers, Erick Erickson Brawl On Twitter: Should Glenn Greenwald Be Arrested For Reporting Leaks?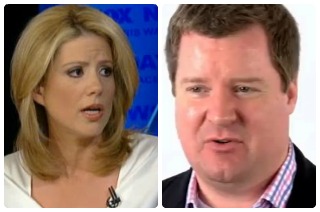 Fox News Channel contributor Erick Erickson, The Daily Beast columnist Kirsten Powers, and Red Eye host Andy Levy battled on Monday over whether The Guardian journalist Glenn Greenwald should face criminal prosecution for publishing the information he was given by National Security Agency leaker Edward Snowden. Their exchange highlighted some of the inconsistencies the members of the media's commentary class have been struggling to resolve since the controversy surrounding the NSA leaks began.

Powers began by noting that it would be a potentially disastrous slippery slope for Americans to conflate "advocacy" journalists with criminals, since virtually every opinion writer or columnist fits within the rubric of "advocacy journalism."

In an unrelated observation, Erickson tweeted that Greenwald was suspect because he facilitated the dissemination of information that Snowden has admitted he intentionally gathered with the aim of leaking.
Powers picked up on Erickson's tweet and asked him to explain.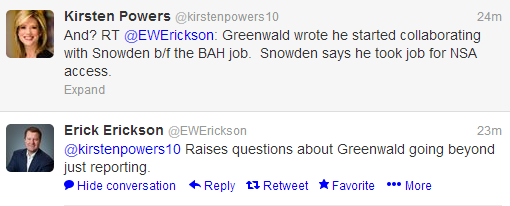 At this stage, the argument began to pick up steam with Erickson admitting that he would "love" to see Greenwald "charged and tried" along with Snowden.

Powers pressed as to what Greenwald would be charged with, but Erickson said he was not clear as to the specific crime that The Guardian reporter committed.



This exchange made Powers wonder if Erickson thought he was residing in a totalitarian society.

Erickson conceded that he saw nothing in the way of evidence that Greenwald had committed a crime. This assertion appeared to frustrate Powers.



At this stage, Levy joined the battle noting that contradiction in Erickson's argument


The argument exploded at this point with Powers noting that Erickson was essentially advocating for the arrest and prosecution of Fox News Channel's James Rosen who was targeted by the Justice Department as a potential "co-conspirator" for talking with a source within the State Department.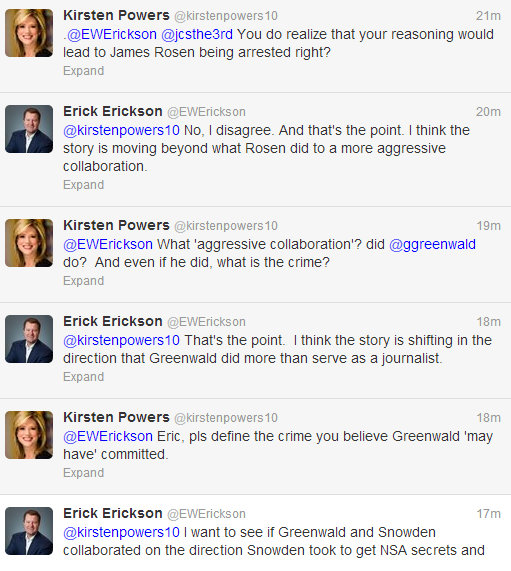 Finally, the pair hashed out what Erickson would like to see Greenwald charged with if he had his druthers.


At this stage, Erickson ended the debate because he had to arrange for incoming guests.

Erickson's lack of understanding of what charges Greenwald might face leads one to believe that his desire to see the reporter face prosecution is primarily aspirational. Furthermore, while Powers has consistently expressed reservations about what Greenwald calls the Obama administration's "war on whistleblowers" contrasts with Erickson's inconsistency on the issue. Indeed, Greenwald was even more passive in his effort to acquire information from a source than Rosen — Greenwald was approached by Snowden while Rosen, according to the DOJ warrant, was cultivating a source within State.
If Rosen should not be subject to prosecution for his work, then neither should Greenwald be for his.
> >Follow Noah Rothman (@NoahCRothman) on Twitter
Have a tip we should know? tips@mediaite.com