Kirsten Powers Fights Zimmerman Media Narrative On Fox: 'Maybe Trayvon Was Standing His Ground'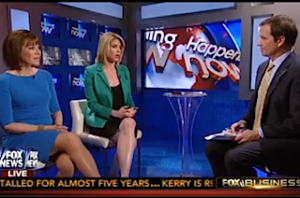 Friday afternoon, Fox host Jon Scott was joined by contributors Judith Miller and Kirsten Powers, who analyzed the enormous amount of media coverage surrounding the George Zimmerman verdict since it was handed down last weekend. After reviewing some of the headlines from "media-watching websites" including Mediaite's own piece on Charles Barkley's reaction, Scott asked his guests how they think the media have "behaved" since Zimmerman was acquitted.
While Miller seemed to believe that the coverage may be skewing too much towards "the issue of whether or not this was a racial crime and a racially influenced verdict," Powers said she understood that part of the coverage to some degree because of the "tragedy" that took place.
"If your child was killed, a 17-year-old, and the person who shot him had been unarmed, I think you probably would feel like justice failed you," Powers said. But, she found it "unfortunate" that the debate has gotten so "divisive" over comparisons to past civil rights victims.
On the verdict itself, Powers said she thought the jury's decision was "probably right" given the facts in the case, "but that is because the law is screwy." She added that "maybe Trayvon Martin was standing his ground" that night, but we'll never know.
When Scott brought up Martin's past incidents of graffiti and possible theft, Powers fought back against this portrayal, saying, "He was innocent. He actually didn't do anything in the situation and there are a lot of kids who get into trouble, white kids, black kids, kids of all races, who get into trouble and I don't think we should say because of that, that we should assume that he is violent."
"What I learned from this case," Powers continued, "is someone can follow me at night and I can not defend myself against that person, because if I defend myself against that person, and they kill me, they're justified. I think that is what a lot of people see in this case. And, I'm mystified that some people can't see that."
Watch video below, via Fox News:
—
>> Follow Matt Wilstein (@TheMattWilstein) on Twitter
Have a tip we should know? [email protected]