Kirsten Powers Frustrated That Obama Can't Win With Detractors: Plan Or No Plan, White House Gets Criticism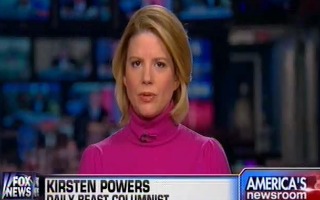 During a discussion on Fox News Channel regarding the president's recently leaked proposal to reform the nation's immigration system, The Daily Beast columnist Kirsten Powers expressed some exasperation with President Barack Obama's critics. Powers said that Obama was criticized for having an ill-defined plan to reform the health care system, but he has also been criticized for introducing a plan to reform the immigration system. In that sense, the president is in a no-win situation with his detractors.

RELATED: Fox Democratic Analyst Kirsten Powers Blasts Obama's 'Silly, Sexist' Defense Of Ambassador Susan Rice
Powers took issue with a Republican guest who said that the president's proposal is akin to amnesty for illegal immigrants and will make it harder to pass a more moderate reform proposal through Congress.
"Saying that it's going to take eight years to become a citizen is about the farthest thing I can think of from amnesty," Powers said. "I support amnesty, and there's nothing about it that's amnesty in my mind."
"I think the president gets criticized when he doesn't have a plan for health care, and now he gets criticized for, sort of, having a backup plan for immigration," Powers observed. "I don't think this is something he's submitted, or released or anything like that. I think it's good that they have a plan in case it comes to that."
When asked if Republicans had a point about border security being a critical element to any immigration reform plan, Powers said that the president has a strong record on border security.
"I don't honestly understand what the complaint is here by Republicans," Powers added. "The president is putting together a plan in the off chance that Congress can't get something done. Congress has shown that they're actually pretty bad at getting things done."
Watch the segment below via Fox News Channel:
> >Follow Noah Rothman (@NoahCRothman) on Twitter
Have a tip we should know? tips@mediaite.com